By Ryan Saavedra. Media: DailyWire.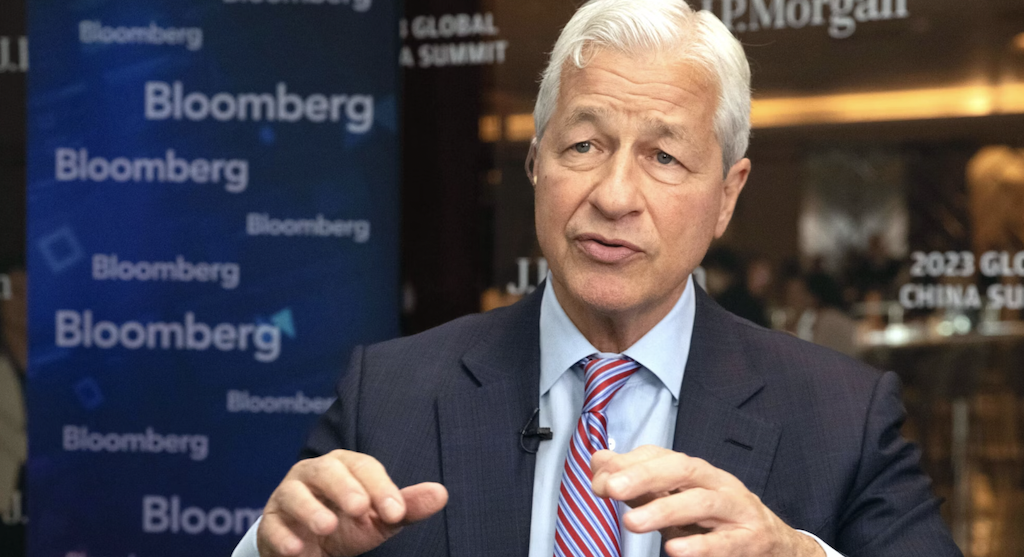 JPMorgan CEO Jamie Dimon suggested during an interview this week that he is open to potentially running for president.
The 67-year-old leads America's largest bank and is arguably the most powerful person in corporate America, according to CNN.
Dimon would not rule out the possibility when asked about it during an interview on Bloomberg Television on Wednesday.
"I love my country, and maybe one day I'll serve my country in one capacity or another, but I love what I do," he said.
Dimon told CNBC in 2019 that he considers himself "barely a Democrat," adding, "my heart is Democratic, my brain is kind of Republican."
Dimon has hammered Democrats in recent years under the Biden administration, including taking shots at President Joe Biden and far-Left Rep. Rashida Tlaib (D-MI).
Dimon enraged Tlaib during a House hearing when she pressed him over whether his bank had a policy "against funding new oil and gas products."
"Absolutely not," Dimon responded. "And that would be the road to hell for America."
"Yeah, that's fine," Tlaib responded. "That's why, sir, you know what, everybody that got relief from student loans, has a bank account with your bank should probably take out their account and close their account, the fact that you're not even there to help relieve many of the folks that are in debt, extreme debt because of student loan debt, and you're out there criticizing it."
Rep. @RashidaTlaib challenges bank CEOs to agree to stop funding fossil fuels, is rejected by every single one

Jamie Dimon: "That would be the road to Hell for America" pic.twitter.com/U7yr6AbtyF

— Tom Elliott (@tomselliott) September 21, 2022
Dimon said during a CNBC interview last fall that Biden was "getting energy completely wrong," and that the war in Ukraine has only exacerbated the situation.
"We have it completely backwards, and in my view, America should have been pumping oil and gas," Dimon continued. "And it should have been supported, you know, we're trying to have our cake and eat it, too, a little bit. And so you have the, you have the problem this winter, which it sounds like they've got enough supply to get through this winter. But we have a longer term problem now, which is the world is not producing enough oil and gas to reduce coal, make the transition, create security for people. So I would put it in a critical category."
"And this should be treated almost as a matter of war at this point, nothing short of that," he concluded on the matter. "And obviously, America needs to play a real leadership role. America is the swing producer, not Saudi Arabia. And we should have gotten that right starting in March. It's almost too late to get it right. Because obviously these are longer term investments."
JPMorgan's Jamie Dimon: Biden's "getting energy completely wrong"; restricting drilling has actually "made the climate worse … we have it completely backwards"

"This should be treated almost as a matter of war … America needs to play a leadership role" pic.twitter.com/TBieNorEtH

— Tom Elliott (@tomselliott) October 11, 2022