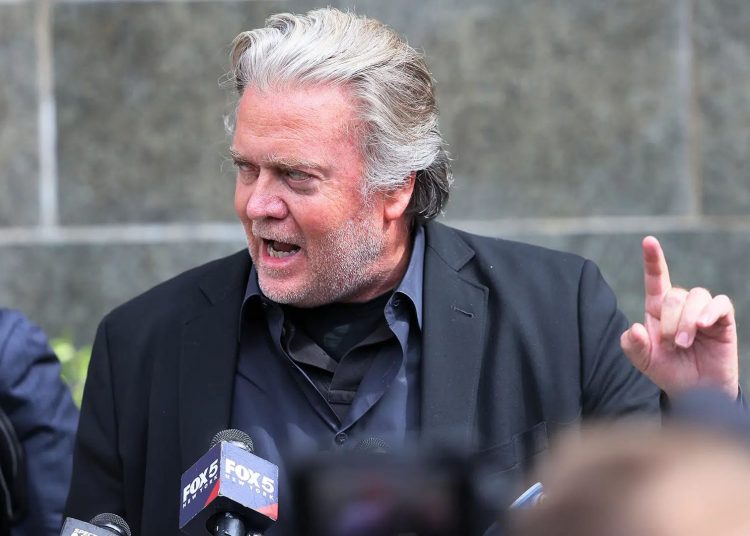 Getty Images.
Martin Walsh. Media: Explain America.
OPINION: This article may contain commentary which reflects the author's opinion.
A federal judge has sentenced former White House adviser Steve Bannon to four months in jail for defying a subpoena from the House Democrat-led Jan. 6 Committee. The judge also ordered Bannon to pay a $6,500 fine.
"U.S. District Court Judge Carl Nichols, a Trump appointee, said Bannon inappropriately defied the select committee on a matter of significant national interest, and even after roadblocks to his testimony had been removed. A jury had convicted Bannon in July on two charges of contempt of Congress — one for refusing to testify to the Jan. 6 select committee, another for refusing to provide relevant documents to the panel," Politico reported.
"Nichols opted to allow Bannon to stay out of jail pending appeal, which could push the issue well into next year. The select committee subpoenaed Bannon in September 2021 as it sought testimony from close Trump aides involved in efforts to help him subvert the 2020 election. Prosecutors charged him in November 2021, three weeks after the House voted to hold him in contempt," the outlet added.
"I want to thank all you guys for coming," Bannon said entering the courthouse Friday. "Remember this illegitimate regime, their judgment day is on eight November when the Biden administration ends. I want to thank you all for coming."
He added, "And remember, take down the CCP. Thank you."
Earlier this month, Bannon made a major prediction ahead of the 2024 presidential election. He laid out his vision for what is likely to come in the near future with former President Donald Trump and the Republican Party.
"2022 is how we are going to stop this. We are going to have a sweeping… I think we can have a 100-seat pickup in the House of Representatives. I think we can flip the Senate. We intend to destroy the Democrat party as a national institution, from school boards all the way up to state legislatures, attorney generals, secretaries of state, to the House and the Senate. Trump is definitely running in 2024," Bannon predicted.
When asked if Trump will run for reelection in 2024, Bannon answered, "Oh, it's not even a question. He's going to run. I think you can see from his speeches at his rallies, he's definitely running. There's no doubt. It's clear that Biden isn't going to run for reelection."
"Biden and Kamala Harris are going to be so crushed this November, the Democrats are going to be throwing a lot of people overboard," Bannon continued.
A few months ago, Bannon spoke to a group of Boston Republicans and argued that he believes Trump will come roaring back to solidify his place as the leader of the Republican Party.
"Going forward, we can transform the Republican Party into more of a MAGA movement … just immerse the (Make America Great Again) movement with the Republican Party, and we're going to have massive victories in the future," Bannon said.
Bannon even floated the idea of Trump becoming a member of Congress, becoming Speaker of the House in 2022, and then impeaching Joe Biden.
"Trump is a disruptor, but he has a long-term vision because I absolutely believe in the marrow of my bones that he will be our nominee in 2024. He'll come back to us. We'll have a sweeping victory in 2022, and he'll lead us in 2024. We totally get rid of Nancy Pelosi, and the first act of President Trump as speaker will be to impeach Joe Biden for his illegitimate activities of stealing the presidency," Bannon said.
Days before the left office, Trump and Bannon spoke several times by phone and put aside their differences after Bannon was fired from the administration back in 2017.
Trump had spoken on the phone with Bannon multiple times before leaving office, seeking guidance on how to overturn the 2020 election results.
"Trump has repeatedly spoken by phone with Steve Bannon in recent weeks to seek advice on his campaign to overturn his re-election defeat, reconciling with his once-estranged ex-White House strategist, sources tell me," Jennifer Jacobs, a reporter from Bloomberg News, said at the time.