By Ryan Saavedra. Media: DailyWire.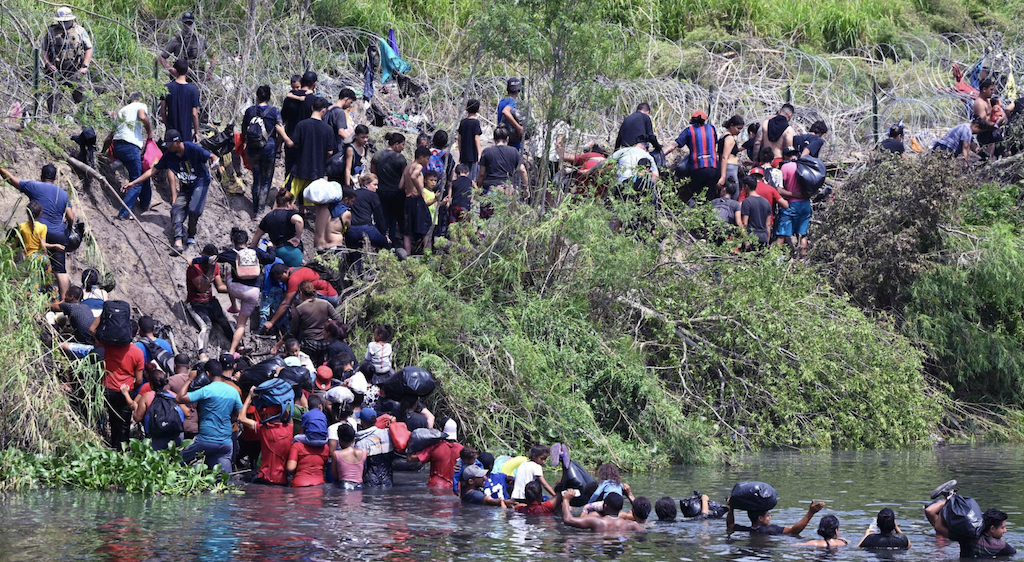 President Joe Biden will reportedly spend his weekend at his beach home in Delaware — which is guarded by a taxpayer-funded wall — after forcing immigration officials to work on weekends to deal with the illegal immigration crisis that his policies have caused.
The crisis on southern border has erupted into a full-blown humanitarian and national security crisis as more illegal aliens stormed the southern border this week than any other week in U.S. history.
"Border Patrol reports a record setting 83,000 migrants crossed our border illegally this week alone. Just to put that number in perspective for you, that is equivalent to a full capacity Dallas Cowboys football stadium crossing our border in a single week," Fox News correspondent Bill Melugin reported.
Fox's Bill Melugin: "A record-setting 83,000 migrants crossed our border illegally this week — equivalent to a full capacity Dallas Cowboys football stadium"@BillFOXLA pic.twitter.com/9ReLXcAhtl

— TV News Now (@TVNewsNow) May 13, 2023
White House Press Secretary Karine Jean-Pierre said during Friday's press conference that the 80-year-old president will enjoy a leisurely weekend at his beach home.
"Tomorrow morning, the president will travel to Capital One Arena in Washington, D.C., to deliver the 2023 Howard University Commencement Address," she said. "The president will then travel to Rehoboth Beach, Delaware, where he and the first lady will remain over the weekend."
Biden laughed at the media on Friday as his staff shouted over reporters who were trying to ask him questions about the catastrophe he created on the southern border.
Refusing to take any questions from the press, Biden sits and stares as his staff herds them out of the room pic.twitter.com/zl1z6n2DiS

— RNC Research (@RNCResearch) May 12, 2023
Biden's refusal to answer questions comes after an explosive report this week revealed that his administration allegedly partnered with Mexican immigration officials to facilitate the orderly migration of hundreds of illegal immigrants into the U.S.
Border agents are communicating across the U.S.-Mexico border with Mexican authorities on encrypted messaging platforms to facilitate crowds of migrants entering the United States, according to Mexican officials.
A lawsuit brought by Florida Governor Ron DeSantis' administration on Thursday against the Biden administration stopped Biden's Department of Homeland Security from being able to release illegal aliens into the U.S. if officials at the border are unable to deal with large influxes of people because they are over capacity.
Judge Thomas Kent Wetherell II of the U.S. District Court for the Northern District of Florida issued the ruling with just a few hours before Title 42 — a section of the U.S. Code addressing public health emergencies that was used during the pandemic to help U.S. officials gain better operational control of the border — was set to expire.
"DHS is enjoined from implementing or enforcing the parole policy contained in the May 10, 2023, Memorandum from U.S. Border Patrol Chief Raul Ortiz, titled 'Policy on Parole with Conditions in Limited Circumstances Prior to Issuance of a Charging Document (Parole with Conditions),'" Wetherell ruled. "This TRO will take effect at 11:59 p.m. eastern time to correspond with the expiration of the Title 42 Order and to give Defendants an opportunity to seek an emergency stay from a higher court."
The memo cited by Wetherell was written by U.S. Border Patrol Chief Raul Ortiz on Wednesday and said that the U.S. Border Patrol needed to "consider whether processing personnel and resources are necessary to process other noncitizens in BP custody or accomplish enforcement actions that are immediately critical to border security for the greater public benefit."