By  Luke Rosiak. DailyWire.com.
The more liberal a state is, the more likely it is to be home to income inequality, according to a Daily Wire analysis of newly-released Census data.
New York, Connecticut, and California had the biggest gulf between rich and poor, according to a Census Bureau yardstick called the Gini Index that measures how far an area is from "perfect equality (where everyone receives an equal share)." Utah, Indiana, and South Dakota had the least inequality. The Census Bureau's detailed annual population study, the American Community Survey, was released September 15, and covered 2021.
Although liberals prioritize reducing the "gaps" between people — known more recently as promoting "equity" — a statistical regression shows that the more liberal a state is, the more likely it is to have inequality.
"This shows that all of the things that [Democrats] complain about actually come from Democrat policies," said David Gordon, a conservative political consultant. "When they complain about poor outcomes for blacks, for example, that is primarily in the areas where they have governed for generations, to catastrophic effect."
The Daily Wire focused on the 10 most-liberal and 10 most-conservative states by selecting those where one party controlled the legislature and governor's mansion, and ordering them by the share of state legislature seats controlled by that party. Hawaii was the most liberal state, with 93% Democrats in its legislature, but it was excluded because it is not part of the mainland and is subject to unique economic forces.
That left Rhode Island, with an 87%-Democrat legislature, as the most Democratic state, followed by California, New York, and Delaware. The most conservative state was South Dakota, with a 90%-Republican legislature, followed by Wyoming, North Dakota, and Idaho.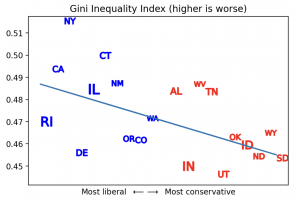 The stratification of blue states compared to red ones is also evident in other measures, including race. When it comes to median income, Rhode Island, New York, and Connecticut had the largest gap between whites and Hispanics. Six of the 10 blue states had larger gaps between foreign-born residents and whites than every red state.
In California, the average foreign-born resident made only a third of what native-born Californians earned. By contrast, in Idaho, the average black resident made 85% as much as the average white person, the closest thing to racial equity of any state. In Indiana, Hispanics made close to 90% as much as whites.

Conservative states feel less poverty
Popularly-repeated statistics that show red states as being more impoverished – and the Census's main poverty measure does show that – are highly misleading because the Census does not adjust for an area's cost-of-living, and instead sets a uniform dollar amount as the poverty line for every family of a given size. This makes it next to useless, given the housing, food and other costs in an area like New York City compared to an area like rural Alabama.
The Census Bureau has another metric, called the Supplemental Poverty Measure, which partially addresses this problem. It adjusts for the cost of housing in an area, but not for other localized items. It also counts welfare benefits as income. By this measure, conservative states have less poverty than blue states. The four states with the lowest poverty are also the four most-conservative states in the country. And California, the second-most-liberal state, has by far the highest poverty rate, at more than 18%.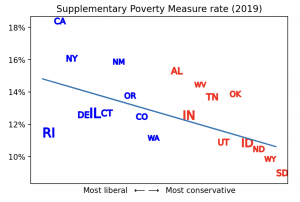 Quality of life
What matters more than the total amount of one's income is the lifestyle it affords.
Median incomes are higher in blue states, but so are rent and home price. Overall, blue-staters spent a larger portion of their household income on housing. Almost no one in red states spent more than $3,000 a month on housing, while it is not uncommon in blue states. Except for Utah and New Mexico, every blue state had higher housing costs than every red state. Blue-staters also paid up to six times more in real estate taxes.
Families of every race in conservative states are more likely than their blue-state counterparts to own their homes rather than rent, and they are also more likely to have more rooms in their home.
Conservative-state residents also own more vehicles and are less likely to have long commutes.
The crunch for housing in blue states, which is driven up by having more people than available homes, may be explained partly by blue states' load of immigrants. There is a close correlation between how many immigrants there are in a state, and how hard it is for Americans to afford a home there.
"It's basic economics. We're raising the demand for housing without raising the supply," said Gordon.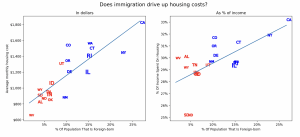 Education
Despite liberals' professed support of the public school system, and the Democrat Party's close relationship with teachers unions, the more liberal a state, the more likely parents are to send their kids to private school rather than public schools. Rhode Island and New York, two of the three most-liberal states, topped the list at more than 26%.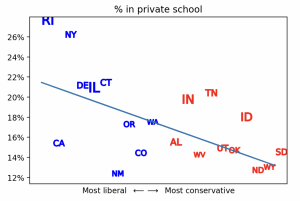 The unequal nature of blue states was also visible in education. Every blue state had higher shares of people with graduate degrees than every red state. But blue states also had some of the highest shares of people who did not even graduate high school.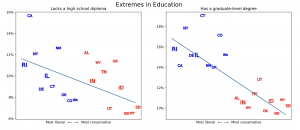 Family
Blue-state denizens are more likely to never marry, and more likely to be cohabitating with a significant other rather than married. Among children, more are adopted in red states. However, divorce rates are similar among both groups.
When people in liberal states do marry, it comes later in life. In every liberal state, the median marriage age for men was higher than every conservative state. It was about 32 in New York and California compared to 27 in Utah.
Best and worst
Among the most conservative states in America, Utah, Idaho, Wyoming, South Dakota, and North Dakota excelled by most measures (and also were the most conservative of red states), while Alabama, Oklahoma, Tennessee, West Virginia, and Indiana often lagged in social indicators.
The data also highlight how New Mexico – the seventh-most-liberal state based on composition of its state legislature – has emerged as, by many measures, one of the most-troubled states in the union. It eclipses West Virginia for the highest percentage of residents on welfare. It also has the highest percent of residents below the poverty line.
It had the second-highest portion of residents who lack a high school diploma, and by far the lowest median income for foreign-born residents of any state.