By Katabella Roberts. Media: The Epoch Times.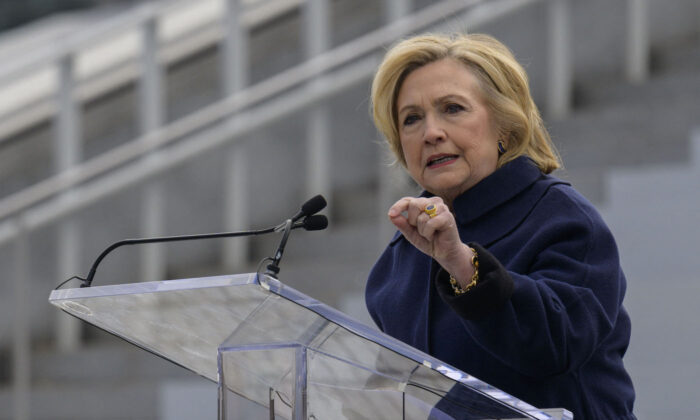 A Catholic Bishop in Texas has criticized comments made by former First Lady and Secretary of State Hillary Clinton on Dec. 2 in which she lumped abortion rights in the United States along with soldiers raping women in Iran, Afghanistan, and Ukraine.
Clinton made the comments to PBS while she was attending the Women's Voice Summit at the Clinton Presidential Center in Arkansas, where she also likened the treatment of women in the United States to "poor Afghanistan and Sudan" in light of the U.S. Supreme Court's June decision to overturn Roe v. Wade.
Bishop Joseph Strickland of the Diocese of Tyler, Texas, took to Twitter on Dec. 3, where he urged people not to listen to Clinton's comments.
"Please, please don't listen to this evil woman. Her lies and immorality need to be silenced for the good of humanity," Bishop Strickland wrote.
Same as 'Afghanistan, Sudan'
Clinton on Friday said that women's rights in the United States are under attack and called abortion restrictions in various states across the country "draconian".
"We have come a long way on so many fronts but we are also in a period of time where there is a lot of pushback and much of the progress that has been taken for granted by too many people is under attack: literally under attack in places like Iran or Afghanistan or Ukraine—where rape is a tactic of war— or under attack by political and cultural forces in a country like our own when it comes to women's healthcare and bodily autonomy," Clinton told PBS during last week's summit.
"It's so shocking to think that in any way we're related to poor Afghanistan and Sudan, but as an advanced economy as we allegedly are, on this measure, we, unfortunately, are rightly put with them," she added.
The decision by the U.S. Supreme Court earlier this year triggered an abortion ban in Arkansas, of which Clinton was previously First Lady. The law bans abortions except to protect the mother's life in a medical emergency.
The Epoch Times has contacted a Clinton spokesperson for comment.
Before the Supreme Court decision on Roe v. Wade, which guaranteed the right to abortion across the entire country, a leaked majority draft opinion suggesting that it would be struck down was published by Politico,
The leaked draft sparked widespread protests across the country among pro-abortion activists and supporters, some of whom demonstrated outside the home of Supreme Court Justice Samuel Alito. At the same time, Supreme Court Justice Clarence Thomas was subjected to racial slurs.
A California man was also arrested after allegedly planning to kill Supreme Court Justice Brett Kavanaugh following the leak.