By Lorenz Duchamps. Media: The Epoch Times.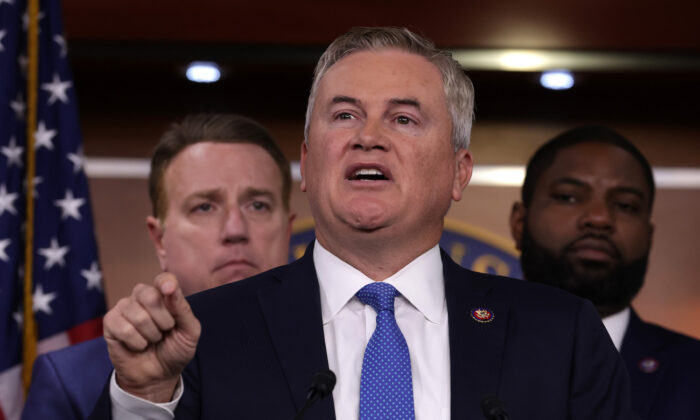 U.S. House Oversight Committee Chair James Comer (R-Ky.) warned on Feb. 12 that China is stealing intellectual property and operating "a massive spy ring" within institutions across the United States as he denounced the Biden administration for failing to take a tougher stance on that country's communist regime.
During an appearance on ABC News's "This Week," Comer labeled the Chinese Communist Party (CCP) as "a problem," arguing that the regime continues to steal "hard-earned research and development."
"They continue to steal our patents. They manipulate their currency," he said. "We believe they have a big footprint in academia with a massive spy ring within our research universities where they continue to steal our hard-earned research and development."
"So, China's a problem. And this administration thus far hasn't set a very good example of standing up to China," he continued. "I think that, you know, shooting the balloon down in the Atlantic once it flew over all the military bases, including my own Fort Campbell, Kentucky, it's very disturbing."
The lawmaker's comment follows weeks of international fallout that began when China flew a spy balloon over the United States, which was ultimately shot down off the coast of South Carolina on Feb. 4, a week after it was first spotted over Alaska's Aleutian Islands. Since the Feb. 4 incident, the Pentagon has confirmed three other "objects" have been shot down after entering U.S. and Canadian airspace in the past week.
Comer noted that he's glad the Biden administration took it "more seriously with respect to the balloons," but he believes the nation is facing "a whole lot bigger" problem from CCP surveillance.
"We've got a whole lot bigger problem with China than the spy balloons," he argued, explaining that the communist regime's military "continues to grow and expand."
"They're continuing their Belt and Road Initiative all over the world where they're trying to create a dominant world economy. This is a problem for the United States. And we need an administration to stand firm to China," he said.
On Feb. 12, the Pentagon said that President Joe Biden acted on guidance from military officials to shoot down an object flying near Lake Huron, Michigan, and also confirmed that it had transited near sensitive military sites. That shootdown took place after Comer's ABC interview. ​
That downing of that object—which was likely the same one that was picked up on radar in Montana on Feb. 11—came after U.S. military planes downed two other objects on Feb. 10 and Feb. 11. One object was shot down in northern Alaska, above the Arctic Circle, while the other was shot down in the Yukon Territory of Canada, located adjacent to Alaska.
Like the Lake Huron incident, few details about those objects have been provided by the Pentagon so far. There have been no updates about the recovery efforts for either as of early on Feb. 13.
CCP Surveillance 'Not Limited to Balloons'
During the "This Week" interview on Feb. 12, Comer also addressed an internal investigation that revealed ByteDance—a Chinese company that owns TikTok—reportedly used the corporation's access to user data to improperly track unsuspecting Americans.
"TikTok executives testified in Congress a year or two ago that none of the data that TikTok collected ever left the United States. But what we've learned from—from whistle-blowers and media accounts is some of that data did, in fact, go back to China and that's a concern," he said.
"It's a concern for high-level people in the government because with that data, ByteDance can—can tell where you are if you are using TikTok," he added. "So, that would be a concern if we continue to see escalation [between] China and the United States. We certainly don't want the Chinese bad guys to know where our public officials are. And that's why you're seeing more state governments ban TikTok. And I think that's going to continue a trend."
Bipartisan legislation to ban the social media giant from the United States has recently gained momentum in Congress following the incursion of the Chinese spy balloon.
Sen. Marco Rubio (R-Fla.), who originally introduced the legislation in December, reintroduced the bill, titled "Averting the National Threat of Internet Surveillance, Oppressive Censorship and Influence, and Algorithmic Learning by the Chinese Communist Party Act," or "ANTI-SOCIAL CCP Act," with bipartisan support this month.
Rubio explained that it's vital that the United States works quickly to prevent the CCP from stealing more Americans' data and further undermining U.S. national security.
CCP law dictates that all companies in China, including ByteDance, must make their data available to the regime on request, and the company's access to TikTok user data has sparked significant security concerns.
Jack Phillips contributed to this report.
From NTD News