By Daniel Chaitin. Media: DailyWire.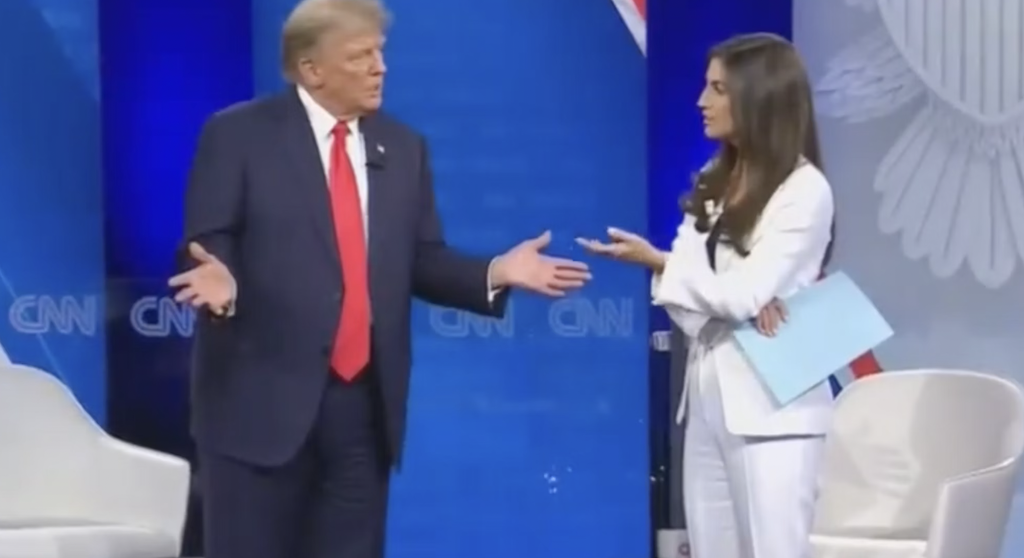 As sparks flew during the CNN town hall on Wednesday, voters got a chance to witness former President Donald Trump dive back into his signature campaign mode, showing a scrappy fighter refusing to back down from a challenge.
Anchor Kaitlan Collins repeatedly pushed back on what Trump said — coming back at him with retorts such as "that's not accurate" — at junctures all throughout the event at St. Anselm College in New Hampshire, an early-voting state. Tensions reached a peak when the journalist pressed Trump on the controversy over his handling of classified documents, rejecting his comparison to President Joe Biden's own issues with squirreling away sensitive records upon leaving office.
"You're a nasty person, I'll tell ya," Trump quipped through some crosstalk. That comment, like several others, was met with laughter and cheers in the audience.
Trump to Kaitlin Collins: "You're a nasty person, I tell ya!" pic.twitter.com/CYYjiq8emO

— The Post Millennial (@TPostMillennial) May 11, 2023
After years of calling CNN "fake news" in the face of a torrent of unflattering news coverage, Trump made a return to the network for the first time since the 2016 campaign with the town hall. He said CNN offered "me a deal I couldn't refuse" in a post to Truth Social before the big event.
Though Trump was introduced Wednesday evening as the Republican 2024 primary frontrunner, the questions he faced for the first 25 minutes looked backward, probing Trump on his "rigged" 2020 election claims, various controversies and legal challenges he faces, and writer E. Jean Carroll's lawsuit accusing Trump of rape. Trump stood his ground on all fronts.
When it came to the 2020 election, Trump explained his view that his loss to President Joe Biden in 2020 was a result of a number of converging factors working against him, not limited to voter fraud concerns, but also the roles played by social media and the controversial letter signed by 51 intelligence veterans casting doubt upon the Hunter Biden laptop story.
Trump went on to defend his conduct in the events surrounding the U.S. Capitol breach — bringing out what appeared to be screenshots of his own tweets to make his case — and said he would likely pardon a large portion of the January 6 defendants.
Former President Trump pulls out screenshots of his tweets on January 5th and 6th asking for protestors to remain peaceful. pic.twitter.com/fRxnF6QICZ

— Townhall.com (@townhallcom) May 11, 2023
The former president denied knowing Carroll just one day after a jury found Trump liable for sexually abusing and defaming her, but not liable for rape. "She's a whack job," Trump said of Carroll.
Former President Donald Trump on E. Jean Carroll:

"I swear… and I have never done that. And I swear I have no idea who the hell… she's a whack job." pic.twitter.com/lZ94oN7uTT

— Townhall.com (@townhallcom) May 11, 2023
The town hall, which included questions from Republicans and undeclared voters who plan to vote in New Hampshire's GOP presidential primary, eventually got to the issues. Trump made familiar assertions about protecting the Second Amendment, energy policy, and keeping the southern border secure. He also predicted Democrats will "absolutely cave" in the ongoing debt ceiling fight.
A couple of exchanges appeared to make news, including when Trump said he would secure peace by bringing together Russian President Vladimir Putin and Ukrainian President Volodymyr Zelensky for talks. "Russians and Ukrainians, I want them to stop dying," Trump said. "And I'll have that done in 24 hours."
"I'll meet with Putin. I'll meet with Zelensky. They both have weaknesses, and both have strengths and within 24 hours that war will be settled."

President Trump promises to end the war in Ukraine in ONE DAY! pic.twitter.com/puY2KPcy4r

— Trump War Room (@TrumpWarRoom) May 11, 2023
Trump took credit for molding a conservative-majority Supreme Court that overturned Roe v. Wade last year, but declined to make any commitments to signing a federal ban on abortion. "Pro-life people are in a strong position to make a deal that's going to be good and going to be satisfactory for them," he said.
While Trump put Biden on blast throughout the event on a host of hot-button issues, including the chaotic withdrawal of U.S. forces from Afghanistan, he barely waded into GOP primary politics. Trump did so near the end, noting that polls show him leading Florida Governor Ron DeSantis "by a lot." Trump employed one of his mocking nicknames for DeSantis — Ron "DeSanctimonious" — and advised the governor to "relax and take it easy and think about the future because right now his future is not looking so good."
In response to the last question from a New Hampshire voter, former President Trump hit Gov. Ron DeSantis and Joe Biden. pic.twitter.com/5epoxyHRGD

— Townhall.com (@townhallcom) May 11, 2023
The town hall came to a close with Collins asking Trump if he will accept the results of the 2024 election. Trump said he would, if it is an "honest election." At the very end, Trump shook hands with Collins and credited her with doing a "good job."
CNN faced calls for a boycott, as evidenced by the spread of the #BoycottCNN on Twitter, over its decision to host Trump for a town hall. A number of people have criticized CNN, including one of its own analysts, former D.C. Metro Police officer Michael Fanone, who wrote an op-ed for Rolling Stone condemning the network for hosting the "guy who tried to get me killed" — a reference to the January 6, 2021, U.S. Capitol riot.
A statement from CNN explained why the network set up a town hall with Trump.
"CNN has a longstanding tradition of hosting leading presidential candidates for Town Halls and political events as a critical component of the network's robust campaign coverage," the network said. "This event with former President Trump will be the first of many for CNN in the coming months as CNN correspondents travel across the country to hear directly from voters in the run-up to the 2024 presidential election."