By Ryan Mills. Media: National Review.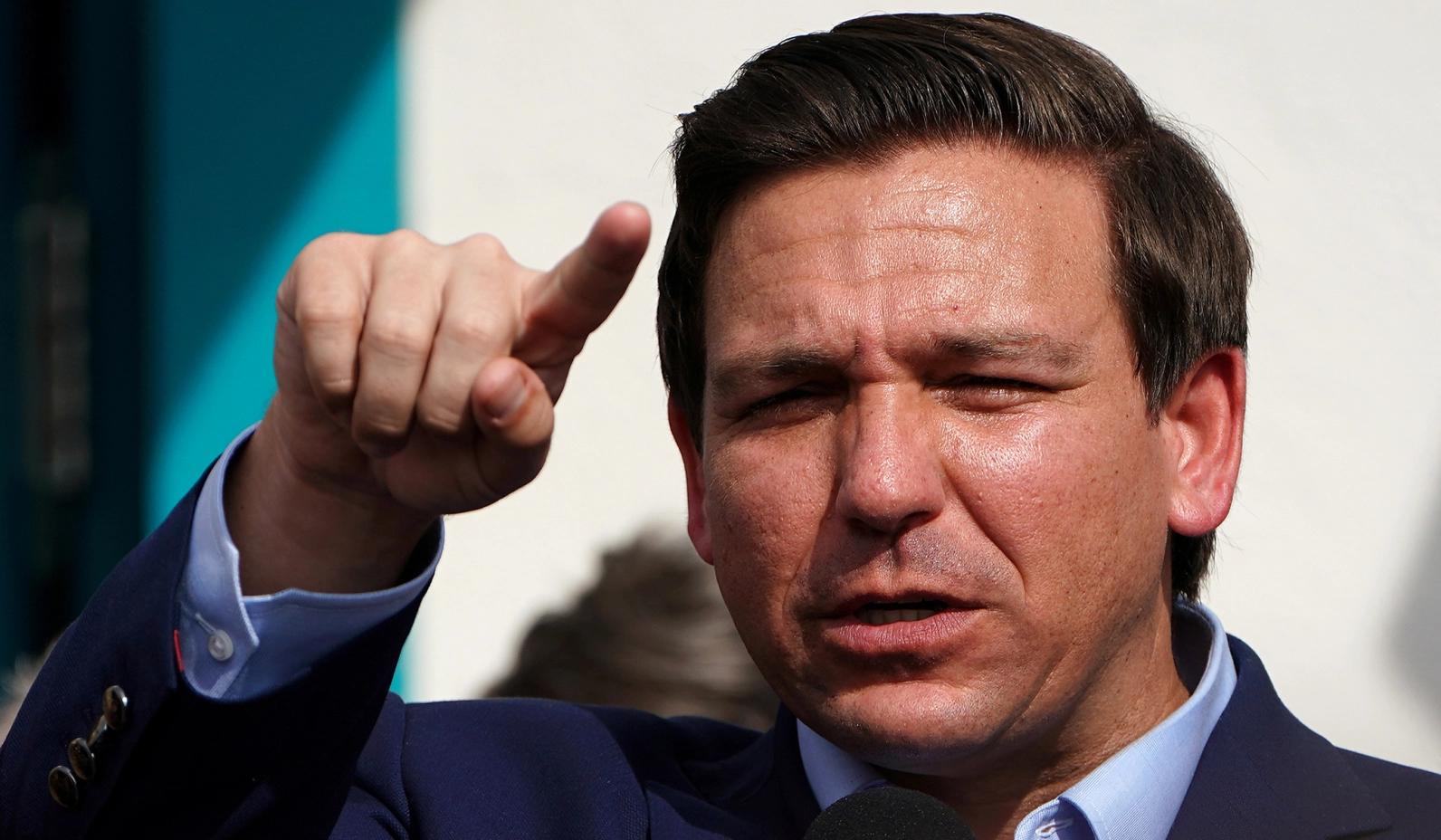 Florida governor Ron DeSantis is taking aim at the state's teachers' unions, releasing a series of proposals this week that would rein in their power by limiting how they can collect dues, where they can promote their union efforts, and how much they can pay their leaders.
The Republican governor's proposals targeting the unions are part of a broad legislative push he's making around education that also includes an additional $1 billion in state funding to raise teacher pay, establishing a teacher's bill of rights, and further reducing school-board term limits. He announced the proposals on Monday at a Jacksonville charter school.
As part of a series of proposals he has deemed "Paycheck Protection" for teachers, DeSantis is calling for a ban on automatic payroll deductions for public employee union dues, requiring public employees who join a union to sign a form acknowledging that Florida is a right-to-work state, and requiring unions to notify members every year of their membership costs.
DeSantis said unions often "don't even tell you how much is being deducted. That's not right."
"We believe that a school union has a responsibility to notify the members of the cost of membership," he said during the Jacksonville announcement.
DeSantis is calling for lawmakers to prohibit teachers' union members from distributing union literature at work, and a ban on union officials doing union business while on the clock for their taxpayer-funded jobs. "We also believe that you should not have the school be a focus of school-union politics, and politicking, and handing out literature, and doing all that stuff," he said. "You do that on your own time, not on the public's time."
DeSantis's proposals include new requirements that teachers' unions provide financial reports to the state annually, that they submit annual financial statements certified by an independent Florida-licensed Certified Public Accountant, and that they represent at least 60 percent of the employees eligible for representation, up from 50 percent now. He's also taking aim at union-leader pay, proposing a requirement that no union leader can be paid more than the union's highest-paid member. He claimed that there are some union leaders "making huge amounts of money, and the teachers are making half of that amount of money. How is that fair?"
The Florida Education Association responded Monday, saying in a prepared statement that DeSantis "continues to show that anyone who is not in lockstep with him will face his ire."
"While Governor DeSantis seeks to punish and divide, we seek to unite," Florida Education Association President Andrew Spar said. "We respect the voices of parents, teachers, school boards, administrators and students. All have a crucial role in providing our students with the best possible education, and students' needs must be our focus. Our schools don't need to go back to 1950; we need to move forward toward 2050."
In addition to his proposals targeting teachers' unions, DeSantis also proposed what he deemed "teacher empowerment" or a "teachers' bill of rights." The bill of rights would protect teachers from litigation if they take action to restore order in a disrupted classroom, clarify that joining a teachers' union is optional and that teachers won't face repercussions if they don't join, and allow teachers to file administrative and civil complaints against a school board or district leaders who direct them to violate a Florida law and discipline them for following the law.
Last year, DeSantis signed laws that banned the teaching of critical race theory in Florida schools and that prohibited teaching young children about sexual orientation and gender identity. He said Monday that "there may be certain school boards or school districts who don't necessarily like some of those policies." But, he added, that teachers "should not be put in a situation where they are being told they have to violate clear policies of the state of Florida that are enacted in statutes."
"At the end of the day, we're a state, and a country, and a society based on the rule of law," DeSantis said. "So, if you don't like the policies enacted by the legislature, signed by the governor, you have an election every two years where you can go make your voice heard."
DeSantis also called for school board term limits to be reduced from 12 years to eight, and for lawmakers to amend the state constitution to allow for school-board candidates to run with a political party affiliation to increase transparency. School board races in Florida are currently non-partisan, but that has led to some confusion he said.
"What we've seen over the years is, you'll have counties in like southwest Florida, voted for me by 40 points, and yet they're electing people at the school board who are like totally the opposite philosophy," DeSantis said. "But those people are running, saying they share the philosophy, then they get on and do something different."
DeSantis also called Monday for an additional $1 billion in funding to continue increasing teacher pay in the state. He said that would be on top of the roughly $2 billion increase that has already been approved since he's been governor.
DeSantis said the increased pay has helped to recruit and retain good teachers. The Florida Education Association pushed back, alleging that Florida still isn't paying teachers enough. "Teachers and staff in our public schools struggle to pay rent, homeowners insurance and other bills because their pay is so low, just like so many Floridians," Spar said. "Teachers and staff are leaving at an alarming rate, in large part due to the policies implemented under Governor DeSantis."
DeSantis, who cruised to re-election in November by a nearly 20-point margin, is widely believed to be considering a 2024 presidential run. Education is one of the areas where he may be looking to win legislative victories to burnish his credentials as a conservative champion. Republicans on the national stage have attacked teachers unions for their role in injecting K-12 curricula with progressive notions about race and gender, and their insistence on conducting school remotely long after it became clear that Covid posed a minimal threat to children.
Florida has made headlines recently for rejecting a pilot Advanced Placement course in African-American studies. Critics of the course argue that the last section dealing with contemporary political and cultural controversies is dominated by mostly hard-left voices, and omits conventional liberal and conservative perspectives.
DeSantis stood by the decision to reject the course on Monday, telling reporters that it advocates for radical political positions and attempts to indoctrinate students, noting that one section of the course is focused on "Black Queer Studies."
"Who would say that an important part of black history is queer theory? That is somebody pushing an agenda on our kids," he said. "And so, when you look to see, they have stuff about intersectionality, abolishing prisons. That's a political agenda."
Last week, Florida House Speaker Paul Renner unveiled a bill that would make almost all Florida students eligible for a school voucher that could be used to pay for a private school or home school education. On Twitter, Renner called House Bill 1 the "the largest expansion of school choice in the history of our state."
Almost 25 years ago, under the direction of Gov. @JebBush, Florida became a leader in educational freedom and opportunity by starting the school choice movement. It's time to finish the job. The Florida House is dedicated to expanding choice to every student in Florida. (1/2)

— Paul Renner (@Paul_Renner) January 19, 2023
HB 1, filed today by Chair @KayleeTuck2, marks the largest expansion of school choice in the history of our state. Once again, Florida leads the way in empowering parents by giving them the ability to make informed decisions about their child's education. (2/2)

— Paul Renner (@Paul_Renner) January 19, 2023
Renner's bill comes on the heels of last summer's U.S. Supreme Court ruling in Carson v. Maine that it is unconstitutional to exclude religious schools from state tuition-assistance programs. Renner told National Review last year that school choice-expansion is a priority of his, including expanding eligibility for existing voucher programs and making education-savings accounts available to students statewide. With Florida being the third most populous state in the nation and the world's 15th largest economy, he said, the state has "the capacity to create a really exciting market that will induce a lot of education innovators to come in and get great educational results."