Media: Investing.com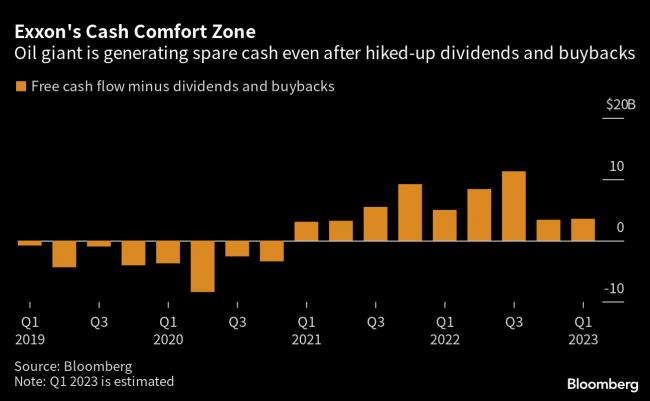 (Bloomberg) — Exxon Mobil Corp (NYSE:XOM). and Chevron Corp. (NYSE:CVX) are reaping profits not seen since oil topped $145 a barrel in 2008 — almost twice the current price.
Strong results over the past four quarters underscore how they've whipped themselves into robust financial shape in response to back-to-back oil-market collapses by cutting costs and streamlining portfolios. Now, ample cash flows mean shareholders have little reason to worry about the sanctity of dividends — even as oil prices flounder around $78.
Exxon reported its best-ever start to a year with net income of $11.4 billion as oil production soared from new wells in the US and off the coast of South America, according to a statement released on Friday.
For Chevron, first-quarter profit rose slightly to $6.6 billion as oil-refining profits rebounded amid climbing fuel demand.
More importantly, both companies have posted hefty profits for four straight quarters even as international crude prices slid more than 35% from last year's peak. Exxon has earned more than $10 billion a quarter during that span while Chevron's average was close to $9 billion — something neither company has done since at least 2008, when crude reached $147.50.
The results "reflect changes we've made," Exxon Chief Executive Officer Darren Woods said during an interview with CNBC on Friday.
Exxon's adjusted earnings of $2.83 a share were 20 cents higher than the Bloomberg Consensus. Chevron also exceeded expectations with $3.55 in per-share adjusted profit.
Exxon said its net debt-to-capital ratio shrank to 4% at the end of the period, thanks in large part to a cash pile of almost $33 billion. The company has sought to enrich investors via dividends and share buybacks, and Exxon is the best-performing energy stock in the S&P 500 Index this year.
The unexpected results were "really all about us increasing our production volumes significantly," Chief Financial Officer Kathy Mikells said during an interview. Exxon's output off the coast of Guyana and in the US Permian Basin rose 40% on a combined basis from a year earlier, she noted.
As for Chevron, the company's worldwide fleet of refineries reaped $1.8 billion during the period, a five-fold increase from the first quarter of 2022.
Chevron has pledged to maintain investor payouts even as it faces pressure to fund new projects key to expanding production.
Chevron's results followed a disappointing end-of-2022 performance and confusion over its strategy for repurchasing shares. Executives were forced to redraw development plans in the Permian Basin after wells clustered too closely together hindered productivity.
Exxon rose 1% in pre-market US trading. Chevron was down 0.6%.