By Jack Phillips. Media: The Epoch Times.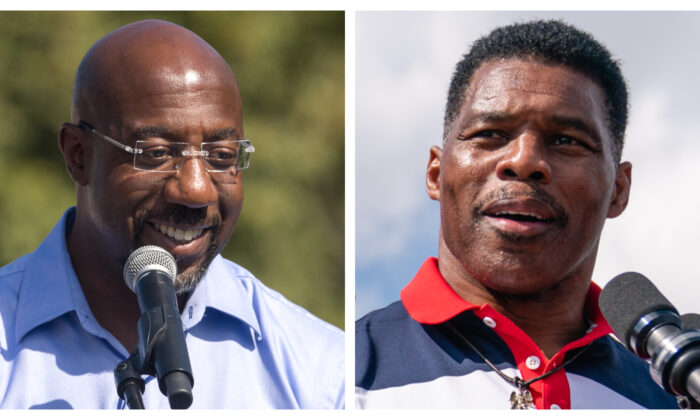 The Georgia Supreme Court allowed counties to hold elections on Saturday for the Senate runoff election between Sen. Raphael Warnock (D-Ga.) and GOP challenger Herschel Walker, siding with Warnock and Democrats.
A unanimous ruling (pdf) on Wednesday issued by the state's highest court upheld a decision handed down by a Fulton County judge that blocked Secretary of State Brad Raffensperger's directive to prohibit counties from voting on the Saturday following Thanksgiving. Georgia also has a state holiday on Friday.
The ruling, which was a single sentence, read: "Upon consideration, the Emergency Petition for Writ of Certiorari and Motion to Stay are denied."
The Georgia Republican Party, the National Republican Senatorial Committee, and the Republican National Committee filed the appeal with the Georgia Supreme Court. They had asked the high court to issue an emergency stay of a lower court ruling that said Georgia law does allow voting this Saturday.
Gabriel Sterling, a top election official in Georgia, wrote on Twitter Tuesday that 18 of Georgia's 159 counties planned to offer early voting on Saturday, Nov. 26, but he noted that "there may be others tomorrow" that allow it. The Senate runoff election will be held on Dec. 6, although the race will not determine which party controls the Senate.
Democrats will maintain control of the Senate following Sen. Catherine Cortez Masto's (D-Nev.) victory in Nevada over Republican candidate Adam Laxalt last week. That win gave Democrats the 50 seats they need.
Warnock and Walker, the former University of Georgia and NFL football star, were forced into a Dec. 6 runoff because neither won a majority in the midterm election this month. Early in-person voting ends on Dec. 2, the Friday before Election Day, which means that Nov. 26 would be the only possible Saturday when early voting could be held.
At issue is a section of Georgia law that says early in-person voting is not allowed on a Saturday if the Thursday or Friday preceding it is a holiday. The state and Republican groups argued that means voting shouldn't be allowed this Saturday, Nov. 26, because Thursday is Thanksgiving and Friday is a state holiday. Warnock's campaign and Democratic groups argued that the prohibition applies only to primaries and general elections, not runoff elections.
In a petition filed this month, Warnock and Democrats wrote that "some, but not all, counties offered Saturday voting on the day after Christmas during the 2021 runoffs and no 'chaos' ensued." They wrote that an "eleventh-hour request that threatens to create confusion, as many counties—and now the Secretary's office as well—have spent days promoting Saturday voting to Georgians."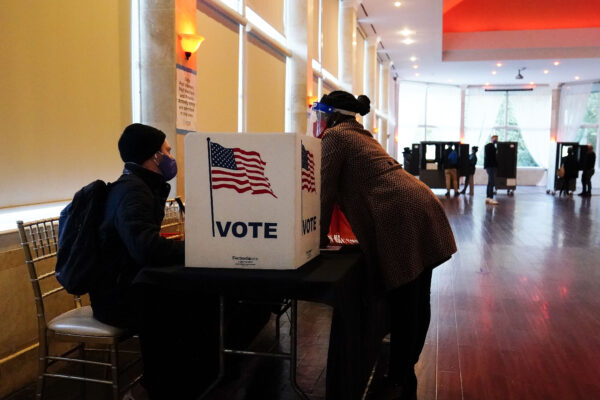 Last week, Fulton County Superior Court Judge Thomas Cox Jr. issued an order that blocked Raffensperger's guidance, saying the "court finds that the absence of the Saturday vote will irreparably harm the Plaintiffs, their members, and constituents, and their preferred runoff candidate." He added that state law "does not specifically prohibit counties from conducting advanced voting on Saturday, November 26, 2022, for a runoff election."
Uzoma Nkwonta, a lawyer for Warnock and Democrats, said during a Nov. 18 hearing state election officials recently said that early voting would be allowed on Saturday.
"This last-minute reversal is not just wrong on the law, but it also implicates a fundamental right in our democracy," Nkwonta said, according to CNN.
On Monday, Georgia's Court of Appeals also a single-sentence ruling late declining to stay the lower court's order. State officials accepted that ruling and said they would not pursue further appeals.
"The Court has worked its will. We believe this is something the General Assembly should consider clarifying to avoid confusion in the future. I hope that election workers are able to enjoy a somewhat restful holiday despite this decision," Raffensperger spokesman Mike Hassinger said in an emailed statement to The Associated Press.
Campaign
With fewer than two weeks to go before the election, both candidates have been heavily campaigning across the Peach State. This week, Walker, a former NFL star, released an advertisement that criticized Warnock for voting against an amendment that would bar biological males from competing in women's sports.
"Warnock's afraid to stand up for female athletes," Walker said in the ad.
Meanwhile, Warnock targeted Walker in his hometown of Wrightsville and told supporters the former NFL star isn't qualified to be in the Senate. Before playing in the NFL, Walker played for the University of Georgia and won the Heisman trophy in 1982.
"That brother could razzle dazzle you on that football field," the Democratic senator conceded, referring to Walker. "But tonight we're on a different field," Warnock added. "And the people of Georgia need a true champion."
The Associated Press contributed to this report.