By Anna Giaritelli, Homeland Security Reporte. Media: Washington Examiner.
EXCLUSIVE — A New York Republican whose district has been affected by the Biden administration's release of 350,000 unaccompanied minors from the border said the White House's actions over the past 2 1/2 years are illegal but fixable.
Long Island Rep. Andrew Garbarino (R-NY) introduced the Protecting UACs Through Enhanced Sponsor Vetting Act on Thursday to enforce existing federal law and ensure that children who arrive alone at the border who have not been trafficked against their will are repatriated.
"Current law clearly requires the administration to repatriate unaccompanied children to their last residence or home country. However, Secretary Mayorkas has repeatedly stated that they will not expel young children who have crossed the border alone," Garbarino said.
The Biden administration announced early in 2021 that it would stop expelling children back to Mexico who arrived at the border without a parent, departing from the Trump administration's policy during the pandemic to expel immediately virtually all children and adults who came across illegally. Children typically do not migrate from Central America alone and are placed with smugglers by a family member who pays several thousand dollars to transport the child, sometimes going into debt for it.
Under the Trafficking Victims Protection Reauthorization Act of 2008, children from countries other than Canada and Mexico would no longer be automatically turned away on the basis that they could be trafficked over the border against their will as opposed to smuggled (when a person pays to get moved over the border).
After the legislation took effect, unaccompanied minor apprehensions began to increase. However, even the nearly 70,000 unaccompanied minors who were apprehended at the southern border during the Obama-era crisis in 2014 have been eclipsed by the numbers seen under President Joe Biden after he stopped repelling children.
Knowing this, criminal organizations have been able to take advantage of the loophole. Since February 2021, roughly 350,000 children have been apprehended by Border Patrol on the southern border — most of them having been released into the United States, according to U.S. Customs and Border Protection data.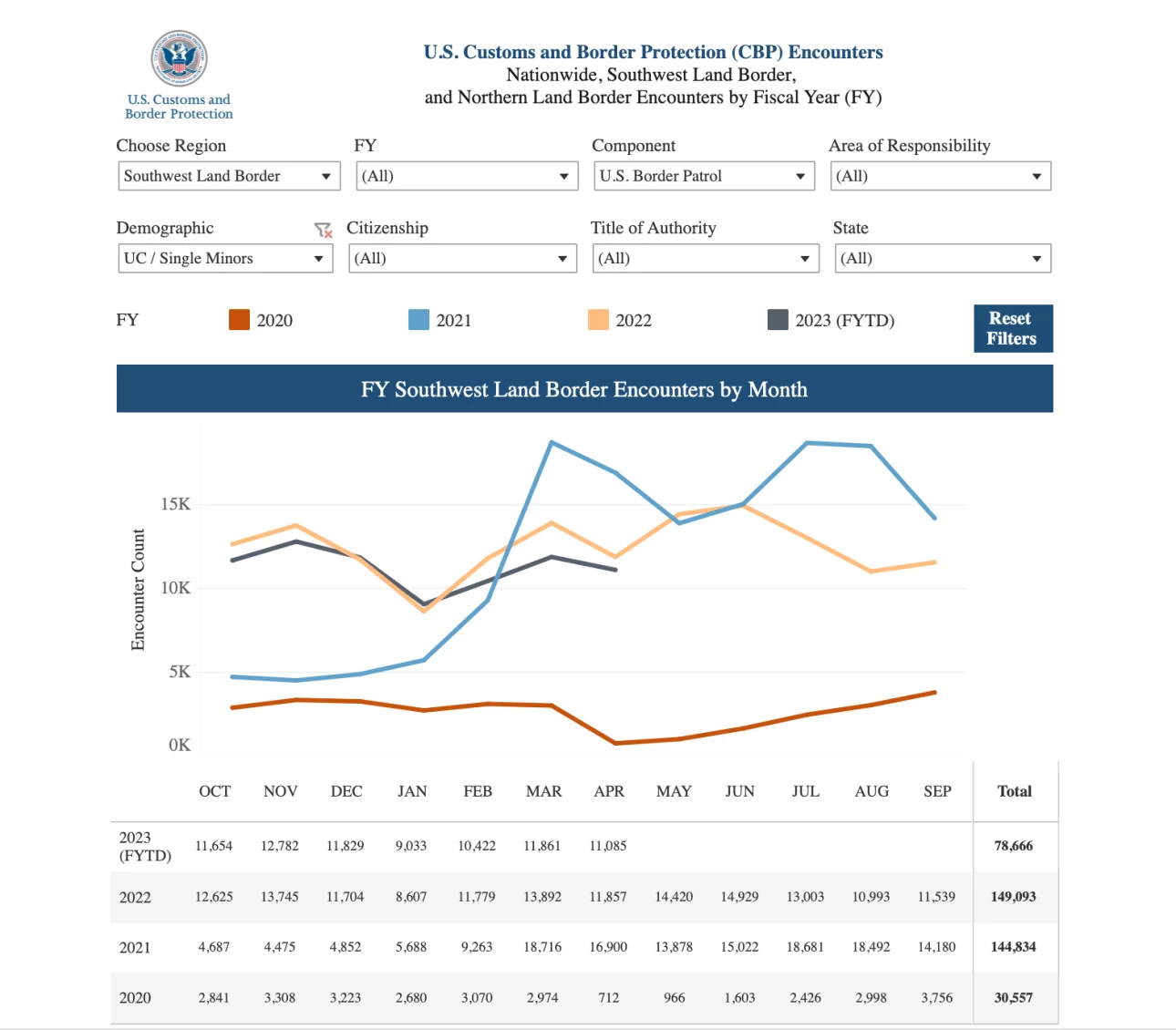 "This failure to enforce the law encourages an increasing number of entries and puts these children in danger by creating a situation where officials are placing them in the custody of hastily vetted sponsors. Once there, they could be forced into child labor, sex trafficking, or transnational gangs like MS-13 on Long Island," Garbarino said.
In instances that a child is not sent back to their home country, the federal government would have to take a handful of additional steps to ensure the children being released are going to safe sponsors.
Garbarino's bill would come down hard on the Department of Health and Human Services, which is responsible for caring for children and placing them with an adult in the U.S. after they come over the border.

HHS would be required to conduct more thorough records checks for all sponsors; consult with relevant local, state, and federal law enforcement agencies about a prospective sponsor's criminal activity before placing the child; notify the governor and city mayor or county judge of the decision to place a child with a sponsor who lives within their jurisdiction; and share intelligence with other agencies if it determines a child or prospective sponsor is involved with a cartel or gang.
Children typically do not go to a parent in the U.S. Just 37% are placed with a parent already in the country, HHS Secretary Xavier Becerra testified before the House this week. The remainder of children are placed with an adult the government determines is suitable.
The sometimes-random placements are one of the reasons Garbarino said he took action. The New York Times exposed earlier this year that HHS has lost contact with tens of thousands of unaccompanied children it placed around the country. Many of these children have been found working in horrific situations, including roofing jobs and in slaughterhouses, instead of going to school, as is legally mandated.
First-term Reps. Anthony D'Esposito (R-NY) and Juan Ciscomani (R-AZ) signed onto the bill as co-sponsors. D'Esposito and Garbarino said the releases continue to have an impact on their neighboring districts, which have both struggled to respond to a growing MS-13 gang presence among unaccompanied minors released on Long Island over the past decade.
"As the border crisis continues to impact communities across the country, it is critical that the federal government takes steps to prevent unaccompanied migrant children from being exploited by cartels and gangs," D'Esposito said. "I am proud to co-sponsor this important legislation that will strengthen screenings for sponsors of unaccompanied migrant children and help prevent nefarious organizations from abusing such vulnerable people."
"As an immigrant myself and a dad to six, it is devastating to see these children slip through the cracks — 85,000 according to recent reports — after leaving HHS and DHS custody, leaving them subject to more heinous exploitation," said Ciscomani, whose district neighbors the southern border. "By bolstering the vetting process for sponsors of these children, we take an extra step, one that was previously ignored, to ensure they are placed in safe, caring homes."