Rep. Jim Banks (R-Ind.) speaks at a news conference on House Speaker Nancy Pelosi's decision to reject two of Leader McCarthy's selected members from serving on the committee investigating the Jan. 6 breach in Washington on July 21, 2021. (Kevin Dietsch/Getty Images)
By 
October 9, 2022
Updated: October 9, 2022. Media: The Epoch Times.
A group of U.S. House Republicans on Oct. 7 sent a letter questioning Attorney General Merrick Garland and Secretary of State Antony Blinken over the presence of Chinese service stations in New York City.
"We are writing to express our grave concern over reports of the law enforcement presence of the People's Republic of China in New York City," the 21 lawmakers wrote, referring to China's full name.
"The Chinese overseas police service station established in New York City earlier this year appears to be a further step of China's illicit long arm policing on U.S. soil that violates our sovereignty," Republican Study Committee chairman Rep. Jim Banks (R-Ind.), Reps. Michael Waltz (R-Fla.), Mike Gallagher (R-Wis.), and 18 other GOP House members wrote in the letter.
The letter came after a September report from NGO Safeguard Defenders revealed the Chinese authorities have set up at least 54 police service stations across five continents, including the United States, as part of the Chinese Communist Party's (CCP) global transnational repression.
An outpost in New York City was among the "first batch" of 30 overseas police service stations in 21 countries set up by the Public Security Bureau in Fuzhou city, the capital of the southern coastal province of Fujian.
The Chinese police authorities' division in New York, called Fuzhou Police Oversea Service Station, is located at 107 East Broadway, inside the headquarters of the American Changle Association, a non-profit that was founded in 1998, according to its website.
Such Chinese hometown associations hosting the overseas police service stations are often linked to the Chinese regime's "United Front" system, according to Safeguard Defenders. The network of thousands of overseas groups  is loosely overseen by the United Front Work Department (UFWD), a powerful Party agency that works to advance the regime's interests abroad, including by carrying out foreign influence operations, suppressing dissident movements, gathering intelligence, and facilitating the transfer of technology to China.
The lawmakers noted that the Trump administration imposed visa restrictions on CCP officials in the UFWD in 2020. Then-Secretary of State Mike Pompeo said those officials "have engaged in malign activities to co-opt and coerce those who oppose Beijing's policies" in December 2020.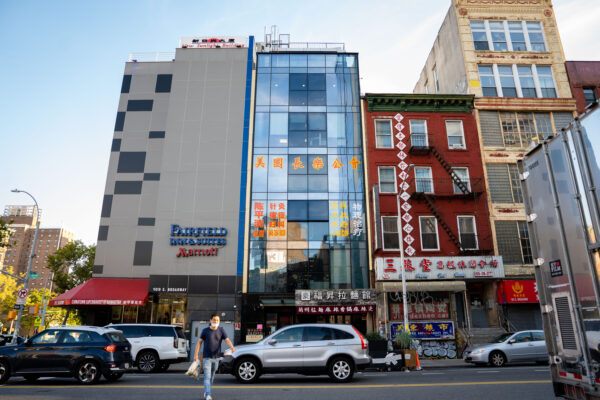 The America ChangLe Association in New York City on Oct. 6, 2022. (Samira Bouaou/The Epoch Times)
Long Arm Policing
The CCP claimed such stations were to help Chinese nationals overseas renew their driver's licenses. But the NGO warned the stations have "sinister" purposes, such as assisting the CCP in targeting the Chinese diaspora.
"They coerce purported Chinese fugitives abroad to return to China to face legal proceedings, which is euphemistically dubbed as 'persuading to return' in Chinese parlance," the GOP lawmakers wrote in the letter.
"By doing so, China avoids scrutiny on its human rights record in relation to repatriating alleged fugitives overseas by eschewing formal international cooperation mechanisms."
"It is deeply troubling that the Chinese government could use these service stations as its long arm policing abroad," read the letter.
The lawmakers noted the Chinese regime's campaign to target overseas nationals had prompted the FBI to issue a warning in 2020.
In July 2020, FBI Director Christopher Wray warned the CCP had targeted hundreds of Chinese nationals living in the United States to force them to return, which was part of the CCP's global campaign known as Operation Fox Hunt.
"China describes Fox Hunt as some kind of international anti-corruption campaign. It is not. Instead, Fox Hunt is a sweeping bid by Xi to target Chinese nationals whom he sees as threats and who live outside China, across the world," Wray told the Hudson Institute in Washington at that time. "We're talking about political rivals, dissidents, and critics seeking to expose China's extensive human rights violations."
He gave an example that one Fox Hunt target was given a choice of either returning to China or committing suicide.
Questions Asked
The lawmakers stated, "there should be no room for the Chinese government to exercise extraterrestrial law enforcement unilaterally on U.S. soil."
"Considering the importance to safeguard the liberty of U.S. persons and the sovereignty of the United States from foreign encroachment," the group of lawmakers requested Blinken and Garland answer six questions before Oct. 21.
Did the Department of State, Department of Justice, or any other agency of the federal government invite or approve China's Fuzhou police to establish a presence in New York City?
Is there any other Chinese law enforcement presence in the United States besides Fuzhou police's overseas services station in New York City?
Has the Biden administration rescinded the visa restrictions imposed by the previous administration on Chinese nationals engaged in United Front work activities?
Has the Department of State issued any visas to Chinese nationals to perform law enforcement or other related government duties at the Fuzhou Police Overseas Service Station in New York City?
Have the Fuzhou Police Overseas Service Station in New York City and any of its employees registered with the federal government in accordance with Foreign Missions Act and Foreign Agents Registration Act?
Has the Fuzhou Police Overseas Service Station in New York City engaged in any activities to monitor, harass U.S. residents or has it coerced any purported fugitive to go to China without due process under U.S. law?
The Epoch Times reached out to the Department of Justice for comment. The Department of State declined to comment.