By: Margot Cleveland. Media: The Federalist.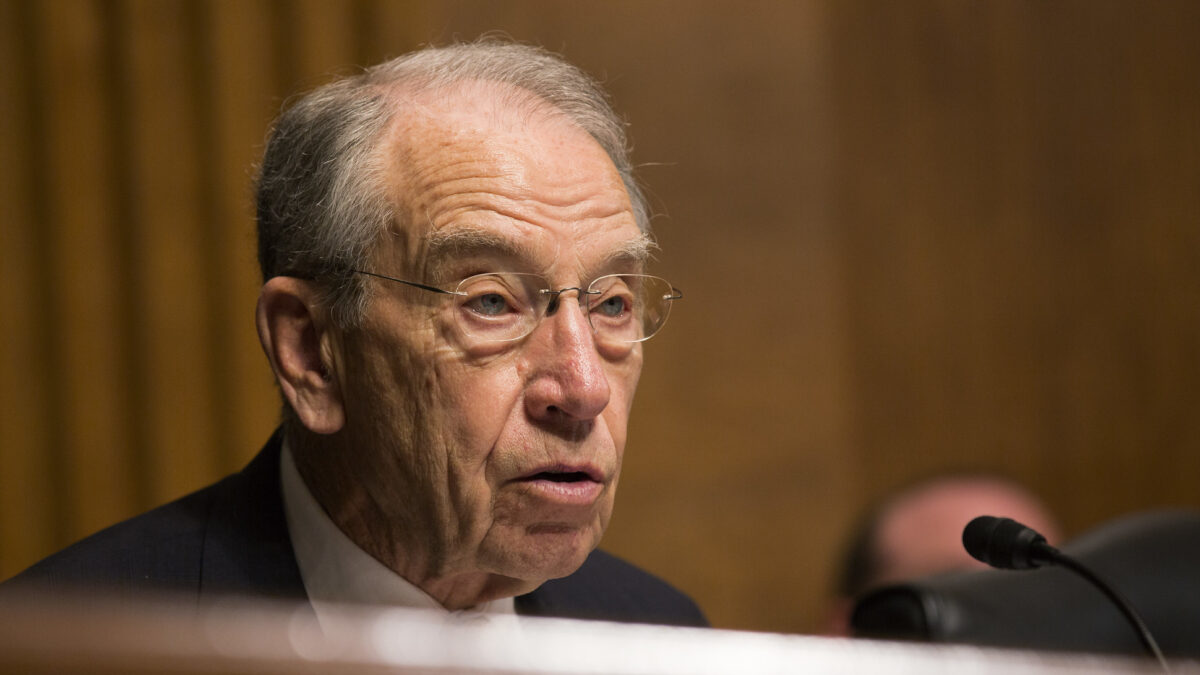 'I know the FBI falsely labeled that evidence as Russian disinformation to bury it,' Grassley said.
Sen. Chuck Grassley, R-Iowa, revealed in a floor speech on Tuesday that material reviewed by his investigative staff supported whistleblower allegations that the FBI falsely labeled evidence of potential criminal conduct by members of the Biden family "Russian disinformation." While Grassley had previously discussed the whistleblower allegations, he now confirmed for the first time that an independent review of the pertinent records supported the accusations.
In response to last week's announcement by Senate Majority Leader Chuck Schumer that he planned to offer a resolution denouncing former President Donald Trump's call to defund the FBI, Grassley excoriated Democrats for remaining silent while the country faced an uptick in violence against law enforcement officers and the radical left pushed to defund the police. The Iowa senator then chastised Democrats for offering a political resolution that ignored the weaponization of the FBI, proceeding then to catalog the DOJ and FBI's many abuses.
Here, Grassley stressed that protected whistleblower disclosures made "clear that the FBI has within its possession very significant, very impactful, and very voluminous evidence with respect to potential criminal conduct by members of the Biden family."
"I know the FBI falsely labeled that evidence as Russian disinformation to bury it," Grassley continued, revealing that his staff had "independently reviewed records" that support the whistleblower allegations.
Tuesday's comments came some six months after Grassley revealed that the FBI had possession of "a series of documents relating to information on Mykola Zlochevsky, the owner of Burisma, and his business and financial associations with Hunter Biden." According to an October 2022 news release and an accompanying letter to Attorney General Merrick Garland, FBI Director Christopher Wray, and Delaware U.S. Attorney David Weiss, Grassley said:
The documents in the FBI's possession include specific details with respect to conversations by non-government individuals relevant to potential criminal conduct by Hunter Biden. These documents also indicate that Joe Biden was aware of Hunter Biden's business arrangements and may have been involved in some of them.
At the time, Grassley noted it was "unclear whether the FBI followed normal investigative procedure to determine the truth and accuracy of the information or shut down investigative activity based on improper disinformation claims in advance of the 2020 election…" The senator also expressed concern over whether Weiss had independently evaluated the evidence.
Grassley concluded his October 2022 letter by requesting from the DOJ and FBI all records from Jan. 1, 2014, forward "that reference Mykola Zlochevsky, Hunter Biden, James Biden and Joe Biden." While his letter sought "all records," Grassley explicitly highlighted several forms including, among others, FD-209a, which is used to record an "asset contract"; FD-794b, which is used to request a payment; FD-1023, which is used for a source report; and FD-1040a, which is used to close a source.
The specific documents requested suggest the whistleblower had claimed the FBI had a source that provided information on the Burisma owner and the Biden family.
While it is unclear whether the DOJ and FBI provided the documents, Grassley's floor statement on Tuesday shows his office had access to records corroborating the whistleblower claims that the FBI buried evidence derogatory to the Biden family by framing it as Russian disinformation.
This latest revelation follows last week's news that an Internal Revenue Service whistleblower claimed FBI headquarters interfered in the investigation into Hunter Biden and that two Biden-appointed U.S. attorneys declined to file tax charges against the president's son, against the recommendation of career prosecutors.
Yet Garland and Wray remain silent. If it weren't for Grassley's various letters and floor statements, Americans would know little about the FBI's political favoritism and the "get out of jail free card" they seem to be handing out to Hunter Biden at every opportunity.
But now that we know that evidence, likely including a confidential human source, was buried under the guise that it was Russian disinformation, will anything change?
Sadly, for all of Grassley's efforts to expose the scandal, the last seven years suggest not.