By Ben Zeisloft. Media: Dailywire.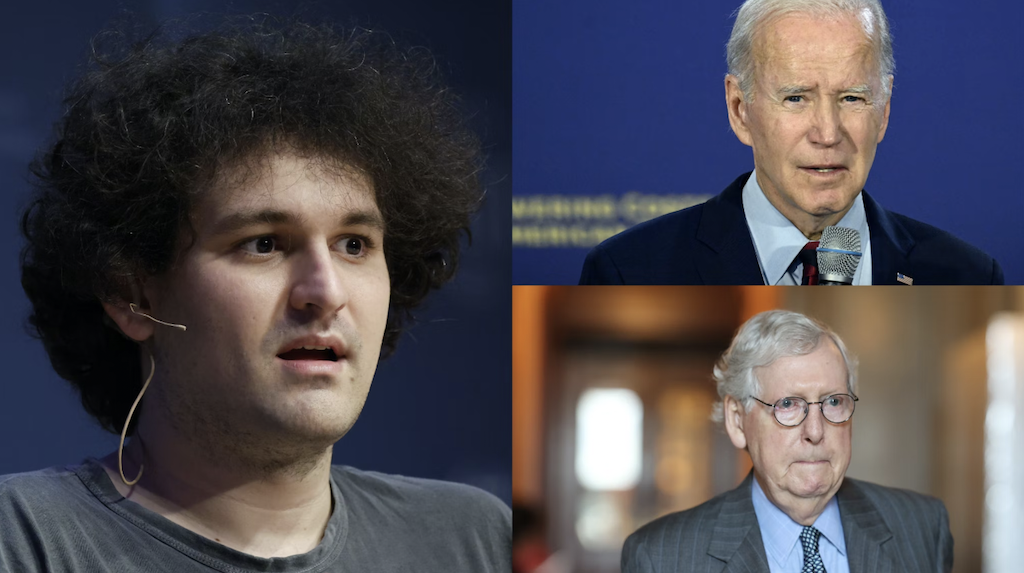 Democrats heavily benefited from the campaign contributions of disgraced cryptocurrency billionaire and FTX CEO Sam Bankman-Fried, while other affiliates of the company likewise helped Republicans ahead of the company's failure last week.
FTX filed for bankruptcy on Friday after users discovered that firms controlled by Bankman-Fried were allegedly fraudulently intertwined, causing him to lose his fortune overnight. The young multibillionaire contributed nearly $39 million during the recent midterm elections, with 99.6% of funds benefiting Democratic candidates, according to data from Open Secrets, which listed him as the nation's sixth-largest individual midterm donor.
The 30 year old donated $27 million to Protect Our Future PAC, a left-leaning group which in turn spent heavily on behalf of Democratic candidates for the House of Representatives. A contribution of over $10 million from Protect Our Future PAC benefited Carrick Flynn, who lost his Democratic primary in Oregon. Other beneficiaries included Rep. Lucy McBath (D-GA), Rep. Shontel Brown (D-OH), Rep. Robert Garcia (D-NC), and Rep. Valerie Foushee (D-NC), all of whom won re-election.
Bankman-Fried also contributed $1 million to the Senate Majority PAC, which supports Democratic candidates for the Senate, and $6 million to the House Majority PAC. During the 2020 election cycle, he was the second-largest donor to the Biden campaign.
Bankman-Fried directly supported a number of individual candidates as well. Two such candidates, Rep. Kevin Hern (R-OK) and Rep. Jesus "Chuy" Garcia (D-IL) donated their respective $5,000 and $2,900 contributions to charity after FTX filed for bankruptcy, according to a report from The Block.
FTX Co-CEO Ryan Salame donated heavily to right-leaning organizations, according to more data from Open Secrets. He contributed $12 million to American Dream Federal Action, a right-leaning group which spent on behalf of candidates such as victorious Republican Senate nominees Ted Budd and Katie Britt, of North Carolina and Alabama, respectively.
Salame also contributed $2 million to the Congressional Leadership Fund and $2.5 million to the Senate Leadership Fund, which are the Republican equivalents of the House Majority PAC and Senate Majority PAC. The latter group, which is directed by Senate Minority Leader Mitch McConnell (R-KY), came under criticism following the midterms for arguably deprioritizing important swing-state races critical to Republicans.
Bankman-Fried, a self-proclaimed "effective altruist," had been preparing to spend as much as $1 billion during the 2024 election cycle to keep the Democratic Party in control of the White House. His parents, Stanford Law School professors Joseph Bankman and Barbara Fried, are well-connected within Democratic circles. The former has aided Sen. Elizabeth Warren (D-MA) with drafting financial regulations, while the latter leads Mind the Gap, a left-wing organization which raises funds for the Democrats among wealthy Silicon Valley donors.
Earlier this year, Bankman-Fried launched an initiative alongside Ukraine's Ministry of Digital Transformation to fundraise for the embattled nation, which has received billions in humanitarian and military aid from the Biden administration, marking "the first instance of a cryptocurrency exchange providing a conduit for crypto donations to a public financial institution," according to a press release from a Ukrainian-based cryptocurrency firm. FTX converted the donations into fiat currencies and transmitted the funds to the National Bank of Ukraine.