By Lawrence Richard. Media: Fox News.
A massive car crash involving 72 vehicles in Farmersville, Illinois, Monday morning left at least six people dead and 37 people injured, police said.
According to Illinois State Police, the surviving victims – whose ages ranged between 2 years and 80 years old – were transported to local hospitals with various injuries. Some of whom are said to be in critical condition.
"At 10:55 a.m. there was a crash on northbound Interstate 55 at Milepost 76. At the same time, there were numerous crashes on southbound Interstate 55 at Milepost 76. The crashes occurred within a two-mile stretch — from roughly Milepost 76 to Milepost 78," the police statement read.
It continued: "Reports show there are six fatalities, all occurring in the northbound lanes. At this time, one decedent has been identified as 88-year-old Shirley Harper of Franklin, WI. The Montgomery County Corner's Office is working diligently to identify the other five individuals and notify their families."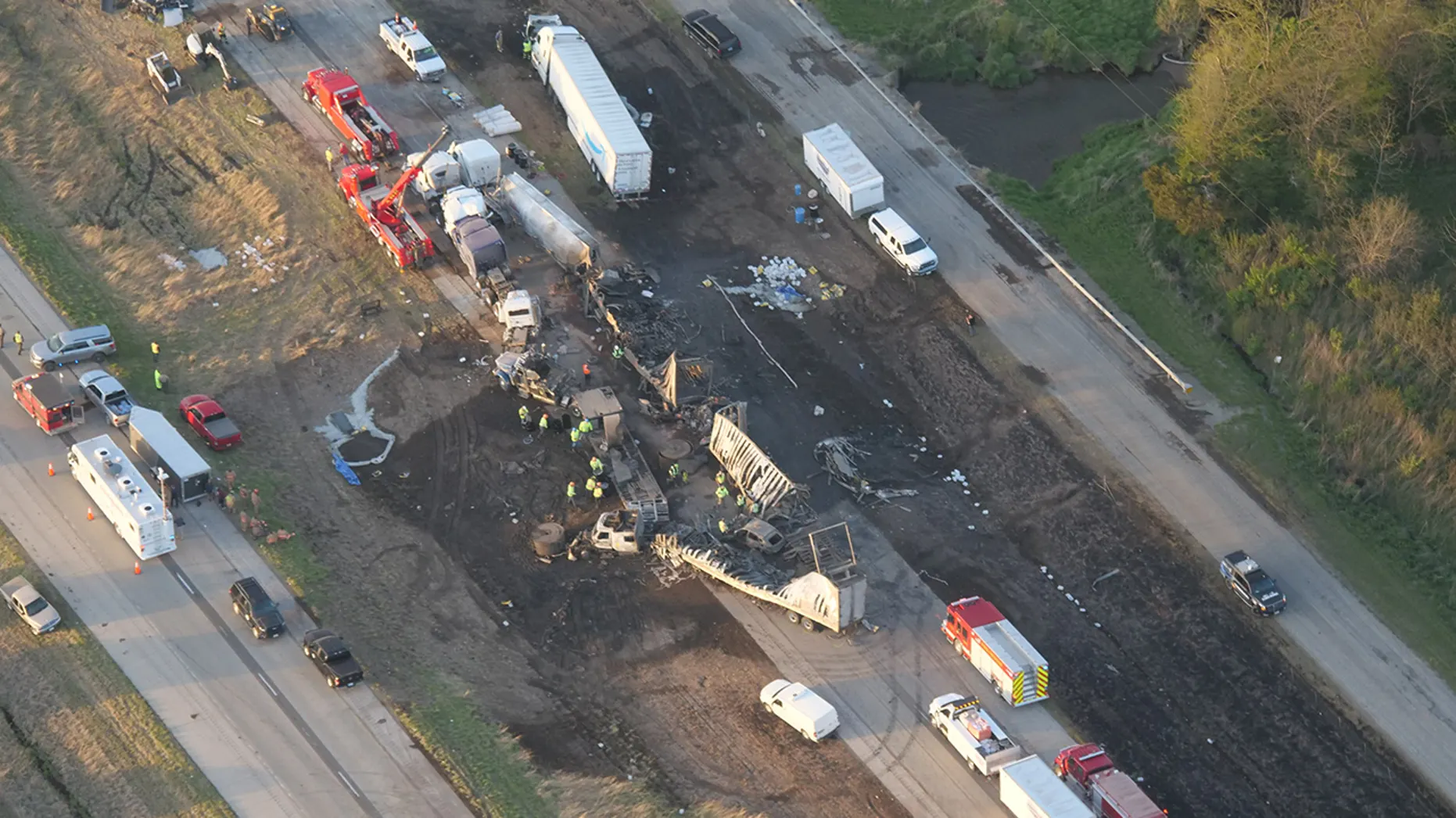 The lanes remained closed through the afternoon and into Tuesday morning.
"Once the interstate is clear of all vehicles, the Illinois Department of Transportation will have to inspect the roadway before it is re-opened," the police said.
At least two of the tractor-trailers involved caught fire.
State Police Maj. Ryan Starrick said the crash was caused by a windstorm that kicked up clouds of dust.
"The cause of the crashes is due to excessive winds blowing dirt from farm fields across the highway, leading to zero visibility," Starrick said.
Kevin Schott, the director of emergency services in Montgomery County, described the crash as a "very difficult scene" and said it was "very hard to train for."
"We had to search every vehicle, whether they were involved in the accident or just pulled over, to check for injuries," Schott said. He also said those involved were visibly and understandably upset.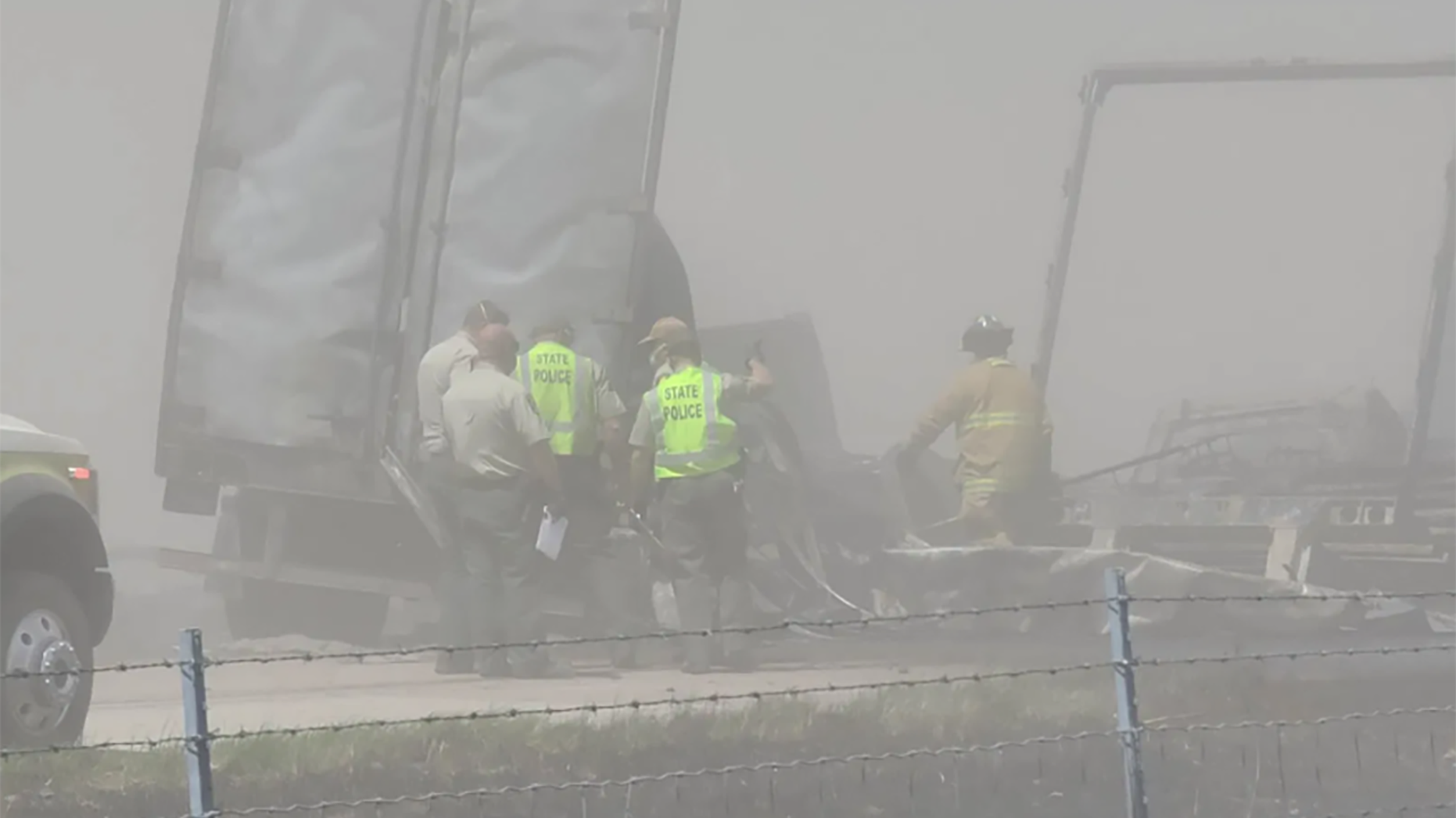 Illinois Gov. J.B. Pritzker similarly described the scene as "horrific."
"I am closely monitoring the horrific situation at the Macoupin and Sangamon County line on I-55. My team is in constant communication with the Illinois State Police, Department of Transportation, and Emergency Management Agency to ensure the safety of motorists as they navigate dangerous conditions," Pritzker wrote in a statement.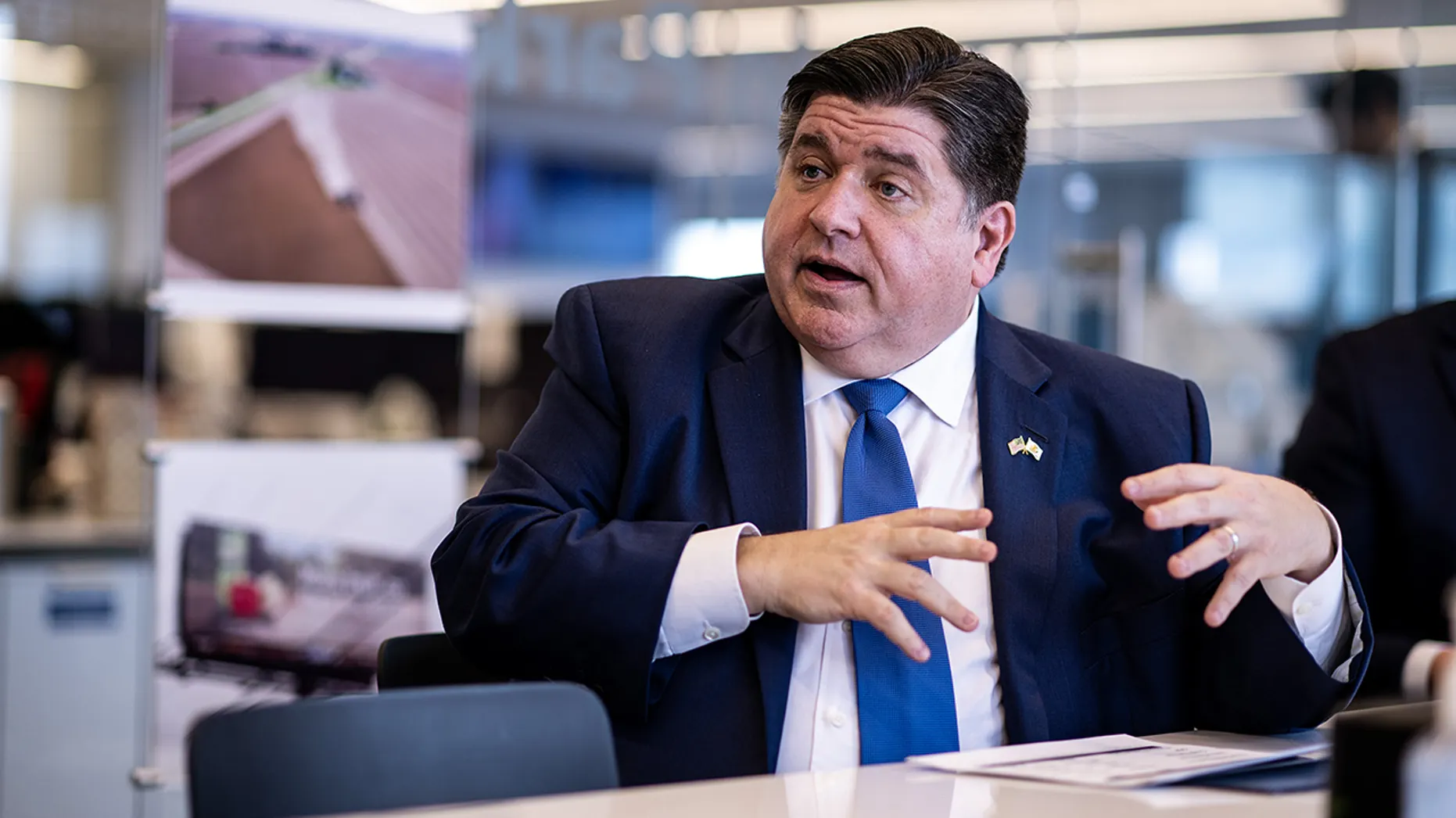 He added: "On the ground, our first responders and emergency management teams are working diligently to clear the road, provide medical care to those in need, and collaborate with local officials to provide support to everyone affected by this tragic accident."
— Governor JB Pritzker (@GovPritzker) May 1, 2023
Wind gusts at the time of the crash were between 35 mph and 45 mph.
The Associated Press contributed to this report.