By Greg Wilson. Media: DailyWire.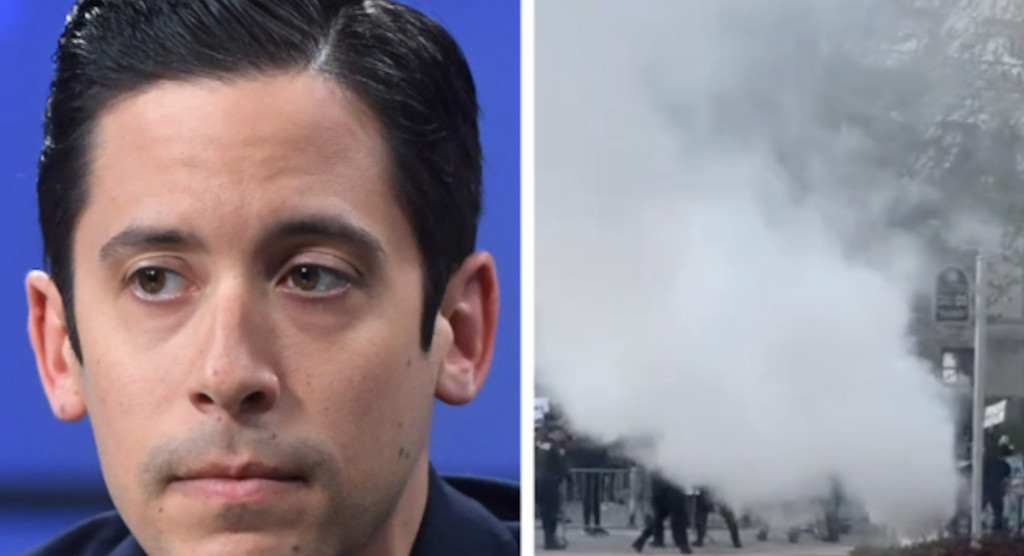 Hundreds of pro-transgenderism protesters tried to disrupt a Tuesday night debate featuring The Daily Wire's Michael Knowles at the University of Pittsburgh, setting off smoke bombs and chanting in an effort to derail the event.
Knowles was at the school's O'Hara Student Center to debate journalist Brad Polumbo in an event sponsored by the Pitt College Republicans and billed as "Should transgenderism be regulated by law?" Inside the event, which was posted on YouTube, protesters shouted "Trans rights are human rights" as Knowles began to speak.
"There they are," Knowles quipped. "That sounds like they've gotten into harmony. It's not even melody anymore. I guess there was an opening act."
The protesters at @michaeljknowles debate at Pitt set the street on fire pic.twitter.com/cKbqmmgOlC

— Daily Wire (@realDailyWire) April 18, 2023
Once the event began, Knowles argued that recognizing biological men as women just because they seek to identify that way erases womankind.
"If the law has nothing to say about what a woman is, then the law has nothing to say at all," Knowles said. "Either women have rights and legal protections as women, as they always have, or they don't."
During one exchange, Knowles and Polumbo debated the hot-button issue of men using women's restrooms. Polumbo, who describes himself as a libertarian-conservative, argued that it was an issue of property rights, and not a government matter and that whomever owns a restroom should be able to decide who can use it.
"What about the military bathrooms?" Knowles asked.
"The military can have its policies," Polumbo said, to which Knowles replied, "That's the government."
Before the 7:30 p.m. event began, hundreds of pro-trans protesters gathered outside, where the first in a series of what police described as "incendiary devices" was set off. Police told Pitt News the device was a "combination of a firework and a smoke bomb."
Over the next two hours, the university closed or restricted access to buildings and residence halls on campus, and Pittsburgh city police officers joined campus police in an effort to control the crowd. Order was reportedly restored just before 10:30 p.m., nearly 90 minutes after the event ended and Knowles departed.
Knowles has angered trans activists by decrying the chemical and surgical castration of minors and calling for the radical ideology that insists people can change genders to be "eradicated." Activists falsely claimed that Knowles call was tantamount to advocating for "genocide" of people who identify as transgender.
The University of Pittsburgh later tweeted a summary of the chaotic scene outside the student center.
"On the evening of April 18, 2023, an Emergency Notification Service message was sent alerting the campus community to an incident happening outside of O'Hara Student Center," the tweet stated. "There were several groups gathering, including guests arriving for a speaker event and counter demonstrators in the vicinity."