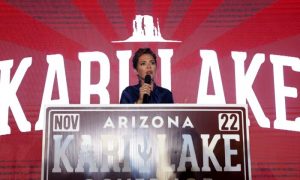 Republican gubernatorial candidate Kari Lake speaks at an election-night gathering at the Double Tree Hotel in Scottsdale, Ariz., on Aug. 2, 2022. (Justin Sullivan/Getty Images)
By Katie Spence. Media: The Epoch Times.
TUSCON, Ariz.—Democratic gubernatorial candidate Katie Hobbs held her last campaign rally of the election season on Nov. 6, two days before Election Day.
The night prior, Republican gubernatorial candidate, Kari Lake, held a rally, too. It, however, was one of many remaining on Lake's busy schedule.
At Hobbs' rally, the mood was mellow, and the voting demographic appeared to skew older. The music, while present, was pleasant background noise, appropriate for an older crowd. Hobbs didn't open with a prayer or a pledge of allegiance to the flag.
At Lake's campaign rally, the music pumped from the speakers, and the floor shook from the base. The crowd ranged in age from the very young to the very old, and the room was excited. Some rally-goers broke into song and dance, depending on what the DJ played. At the rally's start, everyone prayed and recited the pledge of allegiance.

Katie Hobbs speaks at a campaign rally in Tucson, Ariz., on Nov. 6. (Katie Spence/The Epoch Times)
At Hobbs' event, held at a senior center, the room was small and intimate. She drew a crowd of about 100 or so. Event organizers encouraged attendees to cluster closer to the stage. For those that wanted space, though, the back half of the room was wide open, except for media cameras on the risers.
Lake's event the night before was packed. Held at a large church in Scottsdale, the seats were filled, with the front seats filling up first. In a departure from the norm and to demonstrate how they'll work together, Lake is campaigning with Republican Senate candidate Blake Masters, Arizona Secretary of State candidate Mark Finchem, and Arizona Attorney General candidate Abe Hamadeh. Thus, her rallies draw support for all, not just Lake.
Before Hobbs' rally started, The Epoch Times asked rally-goers what brought them out in support of Hobbs. David, who asked not to give his last name, said he fears for democracy if Lake wins. "The Republicans used to be normal before Trump," he stated. "But then it's like they lost their [expletive] minds. They're radical now. If Katie doesn't win this election, we'll lose our democracy!"
When asked what he meant by losing the democracy, David said Republicans denied the election results in 2020, and they're trying to prevent people from voting in 2022 and beyond.
Another gentleman, holding a "Roe, Roe, Roe Your Vote" sign, who asked to remain anonymous, said women have a right to body autonomy. He believes women will die in back alleys trying to get abortions unless Hobbs can reverse Arizona's pro-life laws.
At Lake's event, there was also concern about the loss of democracy. But Lake's supporters fear election integrity is to blame, not voter suppression. Steven Miller told The Epoch Times, "We have a wide-open border, and people are coming in here and taking over. [Hobbs] wants to let everyone come in and vote [illegally] for Democrats because they hand out phones and money. It's criminal what they're doing. They're doing it on purpose. Our border is open on purpose!"
Rising crime and the open border were the main concerns among attendees at Lake's Nov. 4 rally.
Gary and Amanda Briolo, both in their 20s, and recent Arizona transplants from Washington state, said that the open border motivated them to come out and support Lake.
"The border is open right now. Illegals are coming in, and crime is going up. … [Lake] was the first person we saw that sparked the fire," Gary Briolo told The Epoch Times.

Tucson Mayor Regina Romero speaks at Katie Hobbs' campaign rally in Tuscon, Arizona, on Nov. 6. (Katie Spence/The Epoch Times)
Before Hobbs took the stage, Tucson Mayor Regina Romero spoke to the crowd about how Hobbs is touring Arizona on her "Solutions Can't Wait" tour.
"Arizona voters agree with Democrats. They support Democrats' guiding principles. They stand with us, with Democrats, on funding public education. … They understand that climate change is happening and Arizona is the epicenter of climate change. We understand that having bodily autonomy is every human's right," Romero said.
Romero added that Arizonans want "A governor that believes that the 2020 election was won by President Biden! She's not a denier, and she believes in facts!"
At the Lake rally, before the candidate took the stage, Sen. Tom Cotton (R-Ark.) and Sen. Steve Daines (R-Mont.) made a surprise appearance. Daines said that "the left" values three things above all else: abortion, the Green New Deal, and open borders.
Cotton hammered at runaway inflation.
"Why do we have runaway inflation in this country? Why are families struggling to put food on the table? Why can't you afford gas? Why are you worried about heating your home this winter?" Cotton said.
"It's because Mark Kelly and Joe Biden spent trillions of dollars that we don't have. I would say they spent money like drunken sailors, but that would be an insult to drunken sailors!"

Sen. Tom Cotton speaks at Kari Lake's campaign rally on Nov. 5. (Katie Spence/The Epoch Times)
Cotton added that Biden and his allies in Washington had waged war against "American energy producers" to pursue their ideological agenda. He said the same is true for the Southern border.
Instead of implementing common sense solutions, Cotton stated that the result of the Biden administration's border policies is "5 million illegal aliens since Joe Biden took office. Taking jobs, driving down wages, taxing our housing market, stressing public schools and hospitals."
When Hobbs took the stage, she proved she knew what her supporters wanted to hear.
"It's perhaps the most important election for governor in Arizona history," Hobbs said. "This is possibly the last election in our lifetime if we don't elect the right people. If we don't stop the election deniers on the ballot, who are much more focused on the 2020 election than this one in two days.

Arizona Secretary of State and Democratic gubernatorial candidate Katie Hobbs speaks at a press conference calling for abortion rights outside the Evo A. DeConcini Courthouse in Tucson, Arizona, on Oct. 7, 2022. (Mario Tama/Getty Images)
"The 2020 election was very important. We all know that this one is even bigger. We know that democracy is at stake," Hobbs continued, "I'm running against the Trump-endorsed, election-denying, media-hating, conspiracy-loving, chaos-causing, spectacle-seeking Kari Lake."
Hobbs then pivoted to her platform of providing "real solutions" to society's problems. Without going into detail, she said that the "government can help solve problems."
When Lake took the stage, she also proved that she understood her voter base. "We need a major change in this country," Lake started. "I don't believe in polling. I believe in this," she said, pointing to her large audience.
She continued that until "Donald J. Trump," no politician did anything about Arizona's border. Instead, it was all talk. But once Trump took power, he implemented real solutions by building the border wall. Lake stated that if elected, she would finish what he started and secure Arizona's border.
Lake said she'd work with Finchem and Hamadeh to declare an invasion of the Southern border, thus freeing up necessary resources to finish its security. That, in turn, would help stop the flow of drugs into Arizona's communities, she said.

Former President Donald Trump and Kari Lake, whom Trump is supporting in the Arizona's gubernatorial race, speak during a rally at the Canyon Moon Ranch festival grounds in Florence, Arizona, on Jan. 15, 2022. (Robyn Beck/AFP via Getty Images)
Lake then blasted Biden for coming into the office and immediately opening the border. At that point, a heckler jumped up and started yelling, "No, he didn't! He did not! You lie!"
He was promptly escorted from the building by security. As security led the heckler away, Lake stayed poised. She responded, "Yes, he did. Yes, he did," and lamented being unable to have an honest conversation with people like the heckler as their minds are "closed."