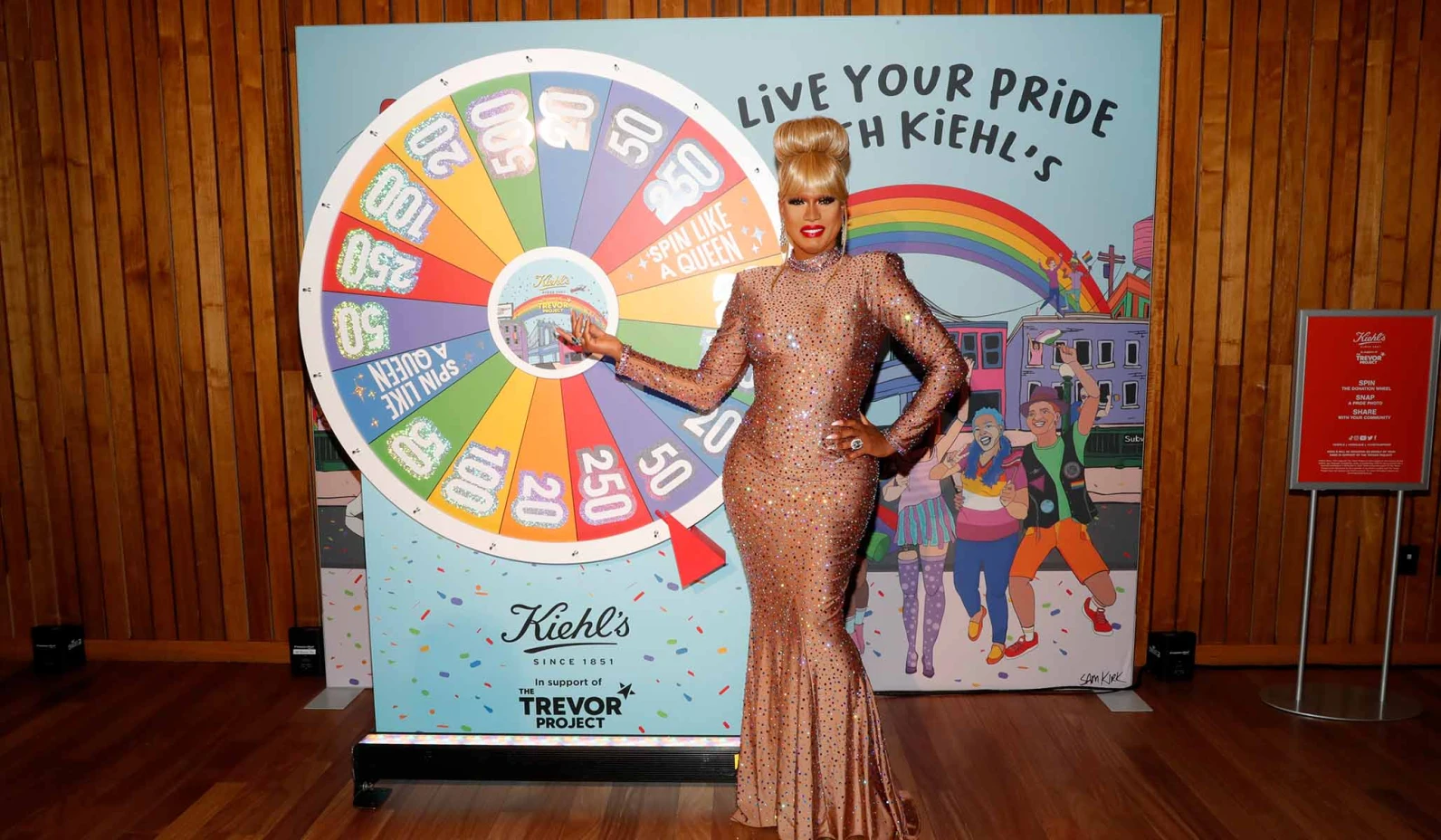 By Abigail Anthony. Media: National Review.
The Trevor Project, whose mission is to "end suicide among LGBTQ young people," has partnered with common household brands to develop their respective pride-themed collections and has, in some cases, received seven-figure donations from corporate sponsors.
The major corporate partnerships, which include iconic clothing brands such as Abercrombie & Fitch to fast food chains like Chipotle, come despite the organization's unsafe online practices.
The youth-oriented LGBT activist group hosts an anonymous online chat forum "Trevor Space," which allows adults to communicate with minors, National Review previously reported. The organization hosts multiple age-segregated chatrooms but has no age-verification system in place, which allows adults to interact with children in its "under 18" chatroom, a mother who went undercover in the chatroom said and National Review confirmed.
In some cases, adults in the chatroom have discussed sexual content with minors and encouraged them to withhold information about their gender transition from their parents.
In some cases, users under 18 spoke with adult users about sexual preferences, including BDSM and polyamory. In chats reviewed by NR, minors and adults discussed sexual fetishes, including "gokkun"— the act of drinking multiple male ejaculations from a container, "bukkake" — the fetish of being covered with ejaculate, "scat play" — deriving sexual gratification from fantasies involving feces, and "forniphilia" — a form of bondage in which a person's body is incorporated into furniture for sexual acts.
Abercrombie & Fitch partnered with the Trevor Project to develop pride-related merchandise for both adults and kids. Abercrombie & Fitch has raised over four million dollars for The Trevor Project to date, according to the brand's website.
The adult-size pride-themed clothing includes several items with rainbows, as well as graphic t-shirts with designs of the singers Elton John and Doja Cat. The kid's collection includes a graphic shirt depicting the Muppets characters with the phrase "Better Together," as well as a sweatshirt that says "you are paradeworthy just the way you are."
"In recent years, Abercrombie & Fitch has become more inclusive than ever, using its platform and products to demonstrate the brand's love for all of its customers and leading with its intention to create a brand where folx [sic] don't merely feel that they fit in, but where they truly belong," reads a statement by The Trevor Project. "By co-creating special Pride products, we leveraged Abercrombie's iconic brand and vast audience to send a powerful message of acceptance and support to LGBTQ young people across the country."
In 2022, Abercrombie & Fitch released a statement announcing it received a perfect score on the Human Rights Campaign's 2022 Corporate Equality Index (CEI) for the sixteenth year in a row and was named "one of the best places to work for LGBTQ+ equality." The current CEI scoring criteria requires five "distinct efforts of outreach or engagement to broader LGBTQ+ community," which can be partially satisfied with "philanthropic support of at least one LGBTQ+ organization or event (e.g.: financial, in kind or pro bono support)."
The Trevor Project is also collaborating with clothing brands Kate Spade, Nautica, Hot Topic, and Zumba, as well as various cosmetic companies.
The shaving company Harry's is selling the "Pride Shave Set," which includes rainbow-colored razors, shave gel, a blade cover, and a card with a poem by Saeed Jones, a gay poet who is "keenly interested in the intersection of identity, power and legacy." The shaving set retails for $30, and Harry's will donate $5 to The Trevor Project for every set sold.
Other cosmetic companies have similar initiatives this year. The "KISS" manicure and eyelash company unveiled pride-themed artificial nails and donated $50,000 to The Trevor Project. The nail-polish company OPI is selling a rainbow-colored collection of polishes and will donate $100,000 to The Trevor Project. The skincare company Kiehl's committed to donating $150,000 to The Trevor Project and is selling a facial cream in a bottle bearing The Trevor Project's name. The skincare company Hempz has donated $100,000 to The Trevor Project and is selling a "Pride Love" body moisturizer in a rainbow-colored bottle, which was named in the 2023 Wall Street Journal article "The 10 Best LGBTQ Pride-Themed Gifts, According to Queer Influencers."
The skincare company Peace Out, which makes small adhesive patches to treat acne, released the "pimple patch" in pride-flag colors. Until July 5th, $5 from each sale of the pride-themed acne patches will be donated to The Trevor Project.
"As an LGBTQ founded and run brand, we've partnered with The Trevor Project with a focus on supporting programs that bring awareness, life-saving resources and help connect our diverse communities to achieve a healthier, more equitable future for the LGBTQ community," Peace Out states on its website. Peace Out committed to a minimum donation of $25,000.
Brew Dr. Kombucha, a fermented beverage company headquartered in Portland, Ore., is partnering with The Trevor Project for the fifth year in a row. The flavor "love" is temporarily rebranded as "love wins" and packaged in a bottle with rainbow wrapping.
"As we celebrate Pride Month with our Love Wins bottles and cans, we're committing $50,000 to The Trevor Project, an organization that provides free, 24/7 crisis counseling to LGBTQ young people," the beverage company's website states.
Chipotle, a Mexican-style food chain, is selling pride-themed shirts and donating a portion of the sales. The shirt designs include a burrito wrapped in rainbow tinfoil, the name "Chipotle" printed in rainbow colors, and the phrase "LOVE what makes you real." All three shirts retail for $16, and ten dollars from each sale will be donated to The Trevor Project, with a minimum donation of $15,000 and maximum donation of $25,000. Chipotle introduced a new, limited-edition optional pride-themed uniform for employees.
"As an organization, Chipotle achieved a 100 score on the Human Rights Campaign Foundation's Corporate Equality Index, highlighting best workplaces for LGBTQIA+ equality," the restaurant chain said in a press release on June 5, 2023. Chipotle also committed to participating in various pride parades.
From June 5 through June 18, Chipotle customers in the U.S. can round-up the order cost on the mobile app to donate to The Trevor Project.
The Trevor Project has received seven-figure grants and donations from corporate sponsors.
The Trevor Project's "Rainbow Tier" corporate partners, who have each donated more than one million dollars, include Google, Macy's, AT&T, LuLulemon, and Abercrombie & Fitch. Google.org has provided more than $2.7 million in grants to The Trevor Project, according to the activism organization. In 2019, The Trevor Project and Macy's joint "Pride and Joy" initiative raised $1.53 million.
The Trevor Project's corporate partners who have each contributed over a quarter of a million dollars include many household names, such as Procter and Gamble, Williams Sonoma, the Walt Disney Company, Coca Cola, YouTube, and the shoe company Dr. Martens. The corporate partners who have contributed more than $100,000 include the National Football League, State Farm, Comcast NBC Universal, Verizon, Wells Fargo, United Airlines, and Goldman Sachs.
The U.S. Department of Health and Human services lists The Trevor Project, which has a crisis hotline, as a resource in its Disaster Behavioral Health Information Series Resource Center.