By Hannah Ng. Media: The Epoch Times.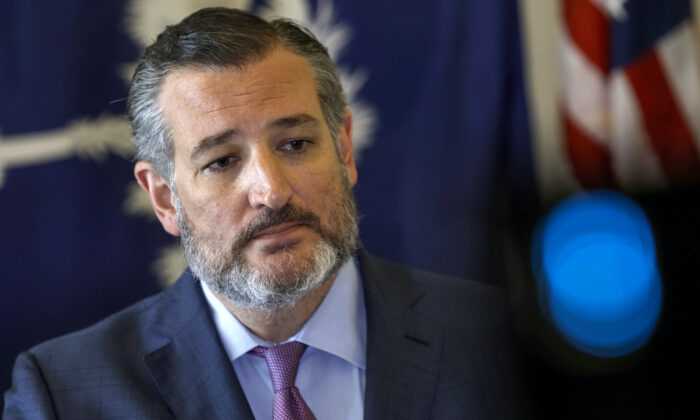 Sen. Ted Cruz (R-Texas) on Jan. 25 proposed legislation that seeks to block the United States from selling oil from the Strategic Petroleum Reserve (SPR) to China and Chinese Communist Party (CCP)-owned companies.
The bill "Protecting America's Strategic Petroleum Reserve from China Act" (pdf) was co-sponsored by 15 other Republican senators.
"The Strategic Petroleum Reserve was intended to ensure that America had sufficient oil reserves in the event of an emergency," Cruz said in a statement.
The Texas lawmaker cited the report that the Biden administration last year sold nearly 6 million barrels of oil from the U.S. Strategic Petroleum Reserve to Chinese state-owned oil company Sinopec.
"Joe Biden sold a portion of this critical national security asset to the Chinese Communist Party when the CCP was stockpiling oil for its own strategic use, and while Americans are paying higher and higher prices for fuel because of the Biden administration's disastrous energy policies," he stated.
"We need to immediately act to stop this from happening in the future and unleash American energy," Cruz added.
Cruz's bill bears close resemblance to the bill the GOP passed on Jan. 12 with an overwhelming, bipartisan vote of 331–97, with 113 House Democrats backing the bill.
The proposal would prohibit "the Department of Energy (DOE) from selling petroleum products (e.g., crude oil) from the SPR to any entity that is under the ownership, control, or influence of the Chinese Communist Party," according to a summary from the Congressional Research Service. "Further, DOE must require as a condition of any sale of crude oil from the SPR that the oil not be exported to China."
GOP Bill to Restrict SPR Releases
Following Russia's invasion of Ukraine in February 2022, the Biden administration, which has consistently blamed soaring energy prices on "Putin's price hike" while not backing policies to support greater domestic oil production, announced a 30-million-barrel release and another 180-million-barrel release in March 2022.
SPR levels have fallen to just over 400 million barrels under Biden, down about 40 percent from its usual reserve levels and the lowest since 1984.
Republicans have long criticized the Democratic President Joe Biden for releasing SPR reserves at a time of soaring energy bills and lower supplies.
House Republicans, led by Rep. Cathy McMorris Rodgers (R-Wash.), took a step further by introducing earlier this month the legislation that would require the Biden administration to develop a plan to boost the percentage of federal lands leased for oil and gas production if it wants to release oil from the SPR.
"The Strategic Production Response Act" or H.R. 21 includes an exception in the case of "severe energy supply" interruptions.
Biden to Veto the GOP Bill
However, on Jan. 23, Energy Secretary Jennifer Granholm said that Biden will veto the House Republican bill if it passes Congress.
"If Congress were to pass H.R. 21, the president would veto it. He will not allow the American people to suffer because of the backwards agenda that House Republicans are advancing," Granholm told reporters during a White House press briefing.
Granholm warned Republicans that limiting the Democratic president's authority to tap the nation's oil reserves would undermine national security, cause crude oil shortages, and raise gasoline prices.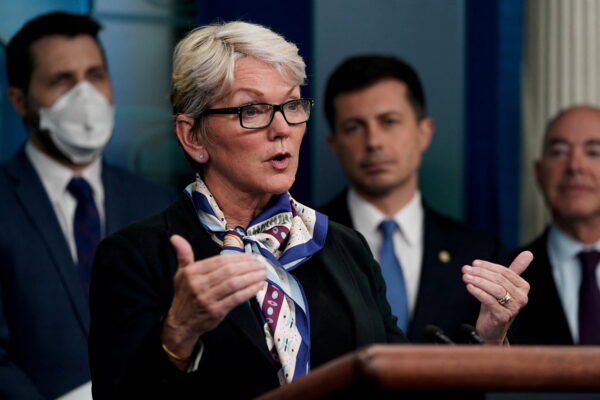 Granholm contended that the bill "would not offer any tangible benefits to the American people."
"Instead, it would interfere with our ability to be responsive to release oil during an international emergency, helping Putin's war aims. It would potentially delay allowing oil to be released for domestic emergencies following a natural disaster or a pipeline outage at home, leaving, again, prices at risk of rising in the wake of a market shock because of emergencies due to extreme weather events," Granholm said during the Jan. 23 press briefing.
In response, a Republican aide to the House Committee on Energy and Commerce told reporters that they seek "to curtail use of the SPR for only those situations where there's a severe supply interruption."
The Energy Department this month rejected the first batch of bids from oil companies to resupply a small amount of crude to the SPR.
Despite that rejection, Granholm said she is confident the United States will be able to refill the SPR and that she will be able to replenish it at a savings to taxpayers.
"The offers that we received did not meet specification or price," the secretary said. She said the administration would soon announce how it will buy back some initial replenishment oil for the reserve.
A vote on H.R. 21 is expected to take place as soon as this week. Whether or not the bill will pass Congress remains to be seen, however, given that the Senate is controlled by Democrats.
Katabella Roberts, Nathan Worcester, and Reuters contributed to this report.