By Michael Brendan Dougherty. Media: National Review.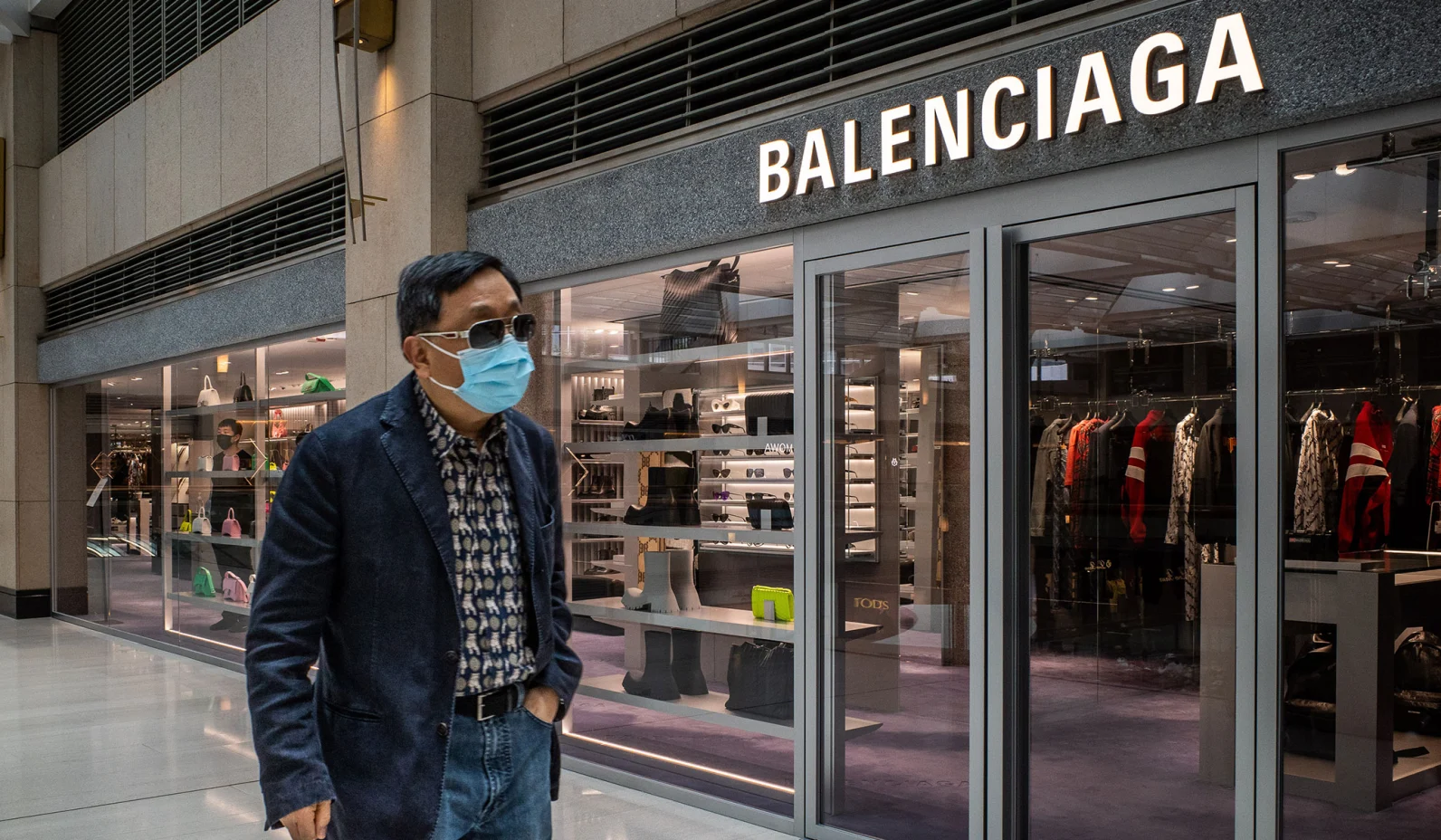 "When High Fashion and QAnon Collide."
That's how the New York Times frames the controversy around a now-withdrawn ad campaign by the ultra-luxury fashion brand Balenciaga. After recalling other provocative fashion shows and events thrown by the brand, the Times describes the controversy this way:
One campaign featured photos of children clutching handbags that look like teddy bears in bondage gear. Another campaign featured photos that include paperwork about child pornography laws. Together, they ignited a firestorm that traveled from the internet to Fox News, fueled by allegations that Balenciaga condoned child exploitation. The controversy has become one of the most explicit collisions of internet culture, politics, fashion and conspiracy theories to date.
Now, that's not quite the whole of it. The image that caught people's attention was a distressed-looking child holding the BDSM teddy bear in a scene littered with cocktail glasses. Recent ad images for Balenciaga also featured, in the background, a coffee-table book by painter Michaël Borremans, whose work includes images of castrated toddlers. Another photo taken in an office incorporates a diploma made out to John Philip Fisher, the name of a man convicted in 2018 for molesting his granddaughter. Another image, with a child standing in a messy room, featuring a teddy bear in fishnets, has warning tape with the word "BAALENCIAGA," a play on the name of the brand and the name of the Old Testament Canaanite god who demanded child sacrifice.
Balenciaga has issued a series of butt-covering Instagram posts about "grievous errors" and ongoing "internal and external investigations." They've announced a lawsuit against one of the photography set designers. The brand is practically pretending that they never saw the photos before they were published across all their brand channels, when anyone familiar with the fashion world knows that top executives and legal counsel would have vetted and signed off on every pixel before they were published. Balenciaga's paid influencer Kim Kardashian issued a statement saying that she was distressed by the images but has spoken to the brand and believes they will do better in the future.
Nobody has been fired.
But why does the New York Times story go so softly — to the point of refusing to confirm the basic facts? Notice the Times description, "handbags that look like teddy bears in bondage gear." Well, they don't just look like that — that's what they are. Later in the same story. "Social media users zoomed in on images from the campaign that appeared to feature, as a prop, paperwork from a Supreme Court decision on child pornography laws."
Notice that all the active agency is thrown on the "social media users" whom the headline has already smeared as QAnon types. The "campaign appears to feature." What is this passivity? As a prop, Balenciaga featured in its ad campaign the decision Ashcroft v. Free Speech Coalition, a ruling that struck down specific laws restricting virtual child pornography. Quite literally, the Times is shifting the blame to those who saw the contents of the image ("they zoomed in, the disgusting prurients") instead of pursuing the multinational fashion house that deliberately displayed this image.
The only thing the New York Times seemed to uncover in defense of Balenciaga was that the images that came under scrutiny were from two different ad campaigns. But Balenciaga's creative director Demna Gvasalia has been trafficking in disturbing imagery like this for years. Balenciaga's stylist, Lotta Volkova, keeps an Instagram account that constantly displays satanic imagery and images of children in distress.
Dear Lord, Balenciaga's #LottaVolkova instagram is absolutely shocking. But Balenciaga and #DemnaGvasalia made their priority to sever ties with #Ye. And total silence from Hollywood and the media. No calls to cancel #Balenciaga, Lotta or Demna. No outrage. Nothing.#KimKardashian pic.twitter.com/PMe7HnMYF2

— I am Pam (@ParamPam1990) November 29, 2022
The fashion industry regularly ends up in controversies like this. In 1999, Calvin Klein scrapped a planned Times Square billboard featuring children in their underwear when it was deemed by some observers to be of interest to pedophiles. Calvin Klein had been known for overtly sexual underwear-ad campaigns throughout that decade. But compared to the images produced by Balenciaga in this recent campaign, those old images seem to have the "warmth and spontaneity that you find in a family snap-shot," as CK claimed at the time.
The Balenciaga ads were designed to appear sinister. It would be helpful for cultural critics as sharp as those at the New York Times to acknowledge this rather than try to blame it on moms who noticed or imply that anyone who saw something wrong is a conspiracy theorist.