By Kisha Forde. Media ENews.
Ahead of King Charles III's coronation in May, the role of Prince William and Kate Middleton's oldest child, Prince George, for the ceremony has been revealed. See what's in store for the 9-year-old.
A role fit for a prince.
Nearly one month before King Charles III and Queen Consort Camilla's coronation is set to take place, more details have emerged about the May 6 ceremony, including the respective roles featured for the event.
Prince William and Kate Middleton's oldest child, Prince George, 9, will serve as one of the eight Pages of Honour that will walk the procession and carry the robes inside London's Westminster Abbey.
Among those also bestowed with the honor include Queen Consort Camilla's grandchildren Freddy Parker Bowles, Gus Lopes and Louis Lopes, as well as her great-nephew Arthur Elliot.
News of Prince George's placement within the ceremony comes amid Buckingham Palace unveiling their illustrious invitation for the royal event.
As seen in the image released on April 4, among the beautiful intricacies, the custom invite also featured the lily of the valley, which served as a subtle nod to the late Queen Elizabeth II, who died in September 2022.
As for the special message printed on the recycled card?
"The Coronation of Their Majesties King Charles III and Queen Camilla," the card, sent out to 2,000 guests reads. "By command of the King the Earl Marshal is directed to invite [guest] to be present at the Abbey Church of Westminster on the 6th day of May 2023."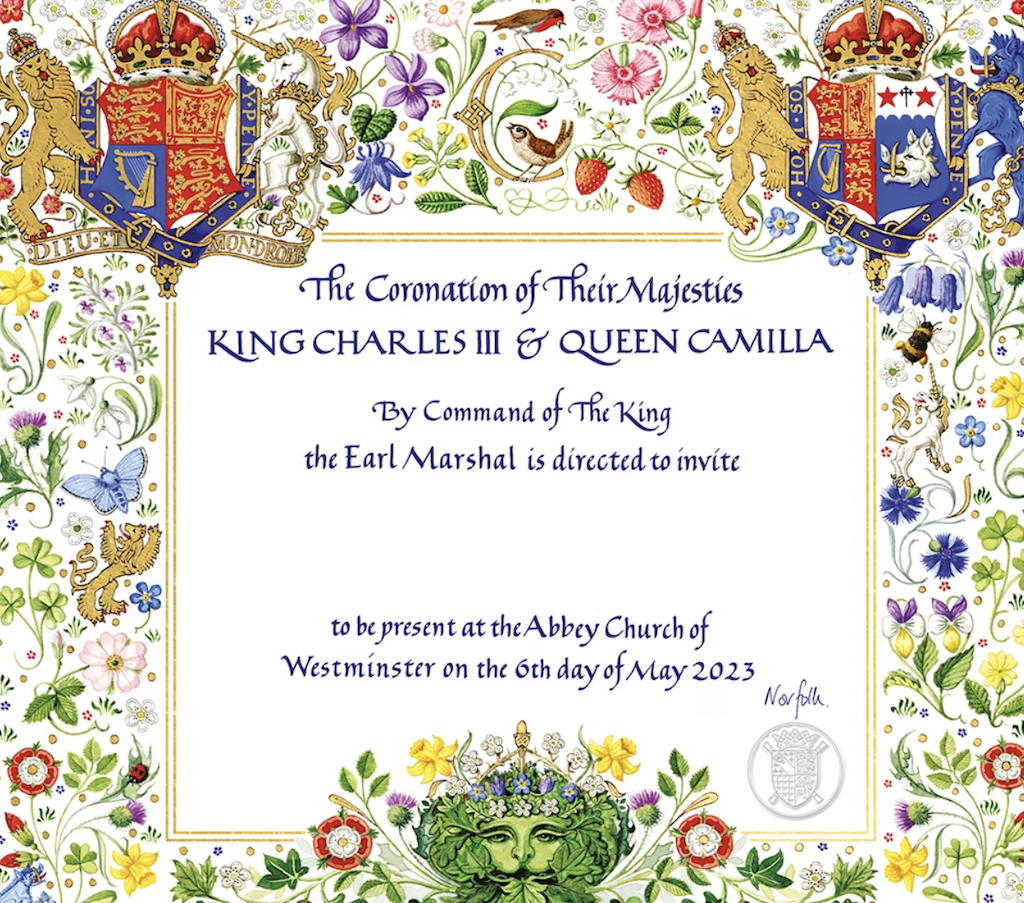 And though the number of guests has been made known, as far as who has snagged an invite remains unconfirmed. However, it's worth noting a rep for Prince Harry and Meghan Markle confirmed in early March that the couple received "email correspondence" from the King's office about the coronation.
But the Duke and Duchess—who will be celebrating their son Archie Harrison turning 4 on that same day—haven't reached an "immediate decision" on whether they'll be in attendance.