By Fran Beyer. Media: Newsmax.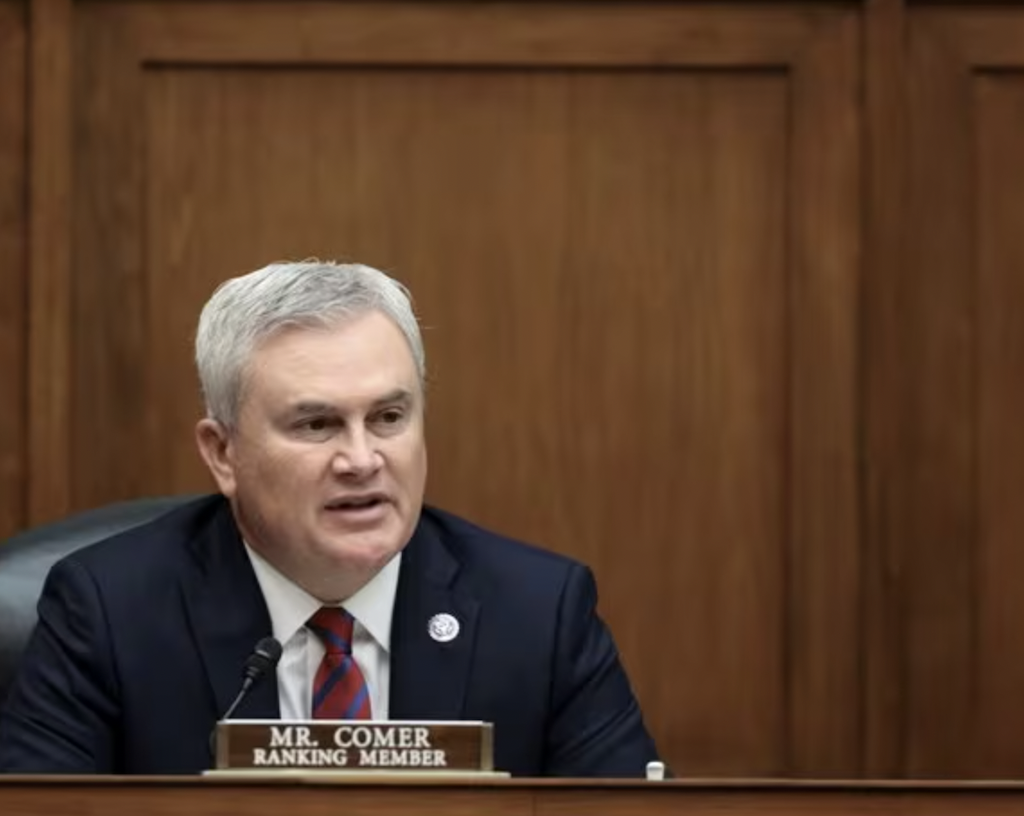 House Oversight chair Rep. James Comer, R-Ky., has reportedly subpoenaed Bank of America asking for records relating to three of Hunter Biden's business associates.
The disclosure was revealed in a letter sent Sunday to Comer by the panel's ranking Democrat, Maryland Rep. Jamie Raskin, CNN reported, noting the subpoena called for "all financial records" spanning 14 years, beginning in 2009.
Bank of America has since turned over a number of materials, CNN reported, citing an unnamed source.
According to the letter, the subpoena specifically targets John Robinson "Rob" Walker and other associates of President Joe Biden's son, who formed a "a joint venture" with executives of CEFC China Energy, a now-bankrupt Chinese energy conglomerate, CNN reported.
The subpoena marks an escalation in Comer's probe into the Biden family's business dealings, the news outlet noted.
Comer has prioritized accessing financial information for the Biden family and its business associates to investigate alleged influence peddling — particularly surrounding any of the Biden family's foreign business deals.
The President has denied any involvement in his son's overseas business dealings.
A House Oversight GOP spokesperson told CNN the purpose of Raskin's letter was to "get ahead of the information the Oversight Committee is receiving in its investigation of the Biden family's influence peddling."
In the letter, Raskin criticizes Comer for not giving Democratic members standard notice before the subpoena was issued, arguing they only got to see it a few hours beforehand rather than the customary 48-hour notice, CNN reported.
Raskin characterizes the subpoena as a "roving congressional inquisition into the affairs of at least one private American citizen," given that it called for the production of "thousands of pages of Mr. Walker's private financial information, including statements of his and his wife's joint checking account for a decade" – something Raskin argues goes "well beyond any business deal with Hunter Biden or CEFC," CNN reported.
Raskin also claims committee Dems are learning about new levels of cooperation between former President Donald Trump's counsel, Patrick Strawbridge, and oversight Republicans regarding a decision to stop pursuing information and materials relating to foreign spending at Trump-owned properties, CNN reported.
In April 2019, the Democrat-controlled House Oversight Committee subpoenaed Trump's longtime accounting firm Mazars USA for financial information relating to the Trump Organization. On Jan. 19, after Republicans took control of the House and the Oversight panel, Strawbridge allegedly emailed Mazars' counsel informing the firm that GOP committee members had given the Trump organization assurances the panel would cease its requests for documents, according to a quote from the email included in Raskin's letter, CNN reported.