By Samantha Flom. Media: The Epoch Times.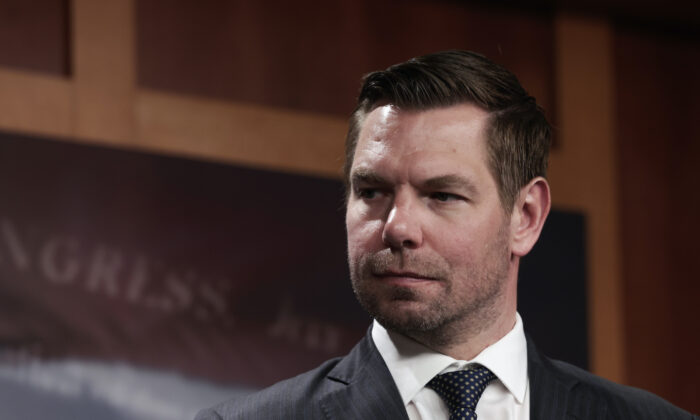 Rep. Eric Swalwell (D-Calif.) holds that he did nothing wrong in his associations with a suspected Chinese spy and that House Speaker Kevin McCarthy's (R-Calif.) vow to remove him from his committee assignments was an act of "political vengeance."
In December 2020, Axios broke the story that Swalwell had been targeted by a Chinese national and suspected spy named Christine Fang, or "Fang Fang," between the years of 2011 and 2015, during his rise from an up-and-coming local politician to a U.S. representative.
Recalling his response to that revelation on Jan. 18 on ABC's "The View," Swalwell said, "When [the FBI] told me about this, I did everything I hope everyone would do, which was to cooperate and help the FBI, and she was removed."
Noting that former Speaker John Boehner (R-Ohio) had been briefed on the situation when it occurred and chosen not to act, Swalwell added, "The Washington Post fact-checker gave Kevin McCarthy four Pinocchios for his claims about this … so, it looks to me like political vengeance."
McCarthy has vowed since November to remove Swalwell from his seats on the Intelligence Committee, Judiciary Committee, and the Committee on Homeland Security, holding that the Democrat poses a security threat for his past relationship with Fang.
"Swalwell can't get a security clearance in the private sector," the speaker told the Associated Press on Jan. 9. "I'm not going to give him a government security clearance."
However, the specific comment that seems to have drawn Swalwell's ire is one McCarthy made at a Jan. 12 press conference at the Capitol.
"If you got the briefing I got from the FBI," the speaker told one reporter, "you wouldn't have Eric Swalwell on any committee."
That is the claim that received four "Pinocchios" from The Washington Post, which held that "there is no evidence [Swalwell] did anything wrong" despite McCarthy's intimation otherwise.
What We Know
According to the Axios report, Fang enrolled as a student at California State University East Bay in 2011, where she began to establish a political platform as president of both the school's Chinese Student Association and the campus chapter of Asian Pacific Islander American Public Affairs. Using those positions, she began to form off-campus political connections while maintaining "unusually close ties" to the Chinese consulate in San Francisco.
Swalwell reportedly met Fang when he was a Dublin City, California, councilman on the rise, prior to his election to the House of Representatives in 2012.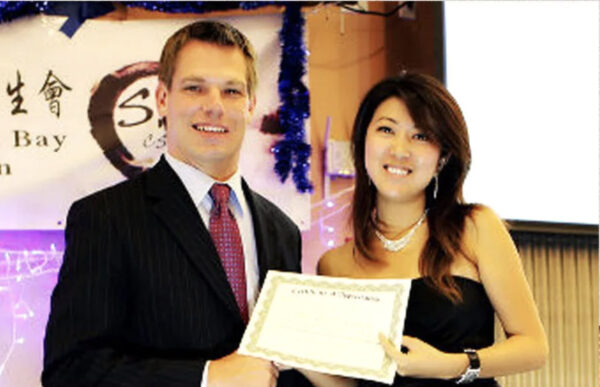 By 2014, Fang had formed "close ties" with Swalwell's office, the report said. She fundraised for his 2014 reelection campaign and helped to get at least one intern placed in his Washington office.
In January 2015, Swalwell was appointed to the House Intelligence Committee, gaining access to some of the most sensitive information available to members of Congress. It was around that time that intelligence officials, alarmed by Fang's suspicious activity, decided it was necessary to brief Swalwell to avail him of their concerns.
In response, Swalwell cut all ties with Fang, who unexpectedly fled the country later that year amid the investigation.
Other political power players targeted by Fang reportedly include at least two Midwestern mayors with whom she had romantic or sexual relationships.
Experts have warned that such tactics, an espionage method known as "honey trapping," are commonly employed by the Chinese Communist Party and pose a serious risk for the loss of sensitive information and its use for blackmail.
To date, Swalwell has neither confirmed nor denied the extent of his relationship with Fang.
Other Removals
In addition to Swalwell, McCarthy has also pledged to remove Reps. Adam Schiff (D-Calif.) and Ilhan Ohmar (D-Minn.) from their committee assignments.
In the last Congress, Schiff chaired the House Intelligence Committee and was a member of the controversial Jan. 6 Committee, while Omar sat on the Foreign Affairs Committee and the Education and Labor Committee.
"Schiff has lied to the American public," McCarthy told the Associated Press last week "He should not be on Intel."
McCarthy did not elaborate on which alleged lies he was referring to, though Schiff was criticized last year for presenting a doctored text message as evidence before the Jan. 6 Committee.
In 2017, Schiff also heavily promoted the authenticity of the Steele dossier, claiming to have seen "more than circumstantial evidence" that the Trump campaign colluded with Russia to steal the 2016 presidential election. The contents of the dossier have since been debunked.
In a Nov. 19 tweet, McCarthy also explained his reasoning on Omar.
"Last year, I promised that when I became Speaker, I would remove Rep. Ilhan Omar from the House Foreign Affairs Committee, based on her repeated anti-semitic and anti-American remarks," he wrote. "I'm keeping that promise."
Technically, McCarthy does not have the power to unilaterally strip members of their committee assignments. Instead, a majority of the full House must approve such a move. Therefore McCarthy would need the support of all but a handful of his caucus to remove the three Democratic representatives.
Both Omar and Schiff have pushed back on those decisions, with Omar attributing them to Republicans' alleged "mission to use fear, xenophobia, Islamophobia and racism to target me on the House Floor and through millions of dollars of campaign ads."
"McCarthy's effort to repeatedly single me out for scorn and hatred—including threatening to strip me from my committee—does nothing to address the issues our constituents deal with," she added. "It does nothing to address inflation, healthcare, or solve the climate crisis."
Schiff, on the other hand, called McCarthy a "very weak leader" of the Republican caucus, holding, "He will adhere to the wishes of the lowest common denominator, and if that lowest common denominator wants to remove people from committees, that's what they'll do."
The Epoch Times has reached out to Speaker McCarthy's office for comment.
Joseph Lord contributed to this report.