By Daniel Chaitin. Media: DailyWire.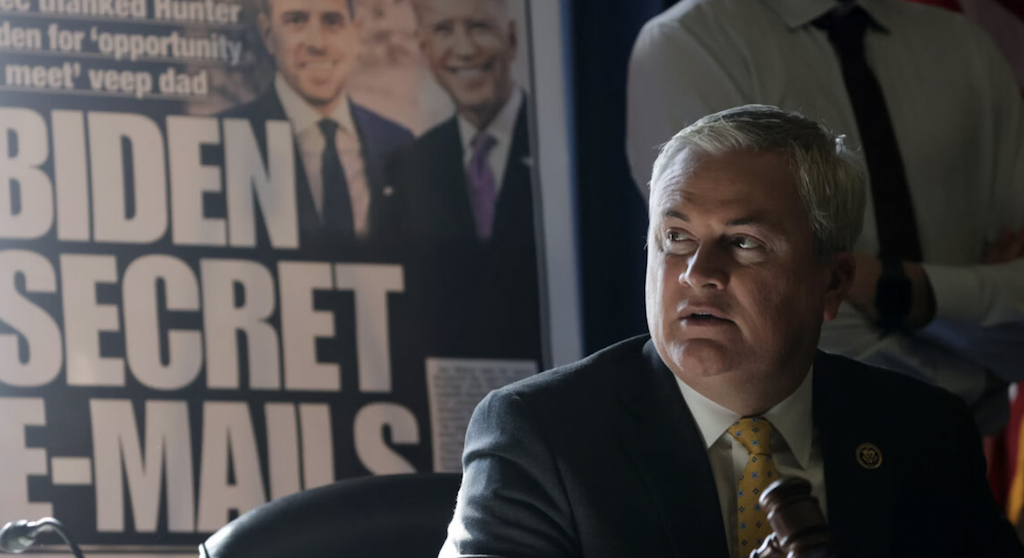 More of President Joe Biden's family members are drawing the interest of Republican investigators on Capitol Hill who say they are dead set on rooting out any corruption surrounding the White House.
House Oversight Chairman James Comer (R-KY) and other GOP members announced on Monday that they paid a visit to the Treasury Department following a breakthrough agreement allowing access to suspicious activity reports (SARs), which financial institutions can use to flag possible criminal behavior, for the Biden family and their associates' business transactions.
"Thousands of pages of financial records related to the Biden family, their companies, and associates' business schemes were made available to members of the House Committee on Oversight and Accountability, which confirm the importance of this investigation," Comer said in a statement.
"The Biden family enterprise is centered on Joe Biden's political career and connections, and it has generated an exorbitant amount of money for the Biden family," he added. "We've identified six additional members of Joe Biden's family who may have benefited from the Biden family's businesses that we are investigating, bringing the total number of those involved or benefiting to nine."
Multiple members of the Biden family are already known to be of interest to GOP investigators. Comer announced last month that subpoenaed financial records dating back to Biden's time as vice president showed $1 million in indirect payments from a Chinese energy company to Biden's adult son Hunter Biden, brother James Biden, daughter-in-law Hallie Biden, and an unknown "Biden," adding fuel to concerns about influence peddling and business schemes.
The president responded to these findings by insisting: "That's not true." And a spokesperson for Hunter Biden pushed back on a "baseless right-wing conspiracy," telling CNN that the president's son "received his portion of good faith seed funds" as part of a joint venture and then shared this money "with his uncle, James Biden, and Hallie Biden, with whom he was involved with at the time, and sharing expenses."
Separately, federal prosecutors are investigating Hunter Biden over his foreign business dealings in countries such as China and Ukraine, tax affairs, and more. Though Hunter Biden has said he expects to be cleared of wrongdoing, Republicans have raised concerns about influence peddling, especially any that may include the president, spurred in part by findings on an abandoned laptop.
Only Republicans visited the Treasury Department on Monday. Democrats, who have been heavily critical of the Biden probe, did not join their GOP colleagues but do have access to the same SARs documents, a committee aide told The Daily Wire.
"The number of Biden family members involved (more than previously known), the amount of money involved (astronomical), the shell companies, the accusations of prostitution rings… wild…," tweeted Rep. Nancy Mace (R-SC) following the trip to the Treasury Department.
Read several of those Suspicious Activity Reports at the Treasury just now.

The number of Biden family members involved (more than previously known), the amount of money involved (astronomical), the shell companies, the accusations of prostitution rings… wild… pic.twitter.com/fVTdazOi2T

— Rep. Nancy Mace (@RepNancyMace) April 17, 2023
"I just walked out of the Treasury after reviewing financial reports on the Biden's and their web of LLC's and wire transfers from MANY foreign countries that created a vast criminal enterprise bigger than anyone can comprehend," said Rep. Marjorie Taylor Greene (R-GA) in a statement. "Whistleblowers can receive protection if they come forward now. Contact the House Oversight Committee now."
In recent weeks, Comer traded blows with Rep. Jamie Raskin (D-MD), the ranking member of the Oversight Committee.
Raskin sent a letter claiming Republicans "categorically refuse to investigate the outrageous official misconduct by former President Trump and his family" while trying to dig up "dirt" on the Biden family. Raskin also accused the chairman of withholding evidence and misleading the public about witnesses. Comer fired back by saying Raskin was making "baseless accusations" while "playing lawyer" for the Biden family.
"The Oversight Committee will continue to pursue additional bank records to follow the Bidens' tangled web of financial transactions to determine if the Biden family has been targeted by foreign actors and if there is a national security threat," Comer said in his statement Monday. "We will soon provide the public with more information about what we've uncovered to date. The American people need transparency and accountability, and the Oversight Committee will deliver much needed answers."