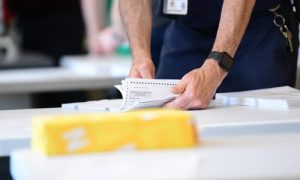 Pennsylvania officials count ballots in West Chester, Pa., on June 2, 2022. (Mark Makela/Getty Images)
By Zachary Stieber October 17, 2022 Updated: October 17, 2022
Republicans are suing Pennsylvania officials after the state's top election official said mail-in ballots without dates will be accepted, in contravention of state law.
A group of Pennsylvania voters, the Republican National Committee, and the Pennsylvania Republican Party filed the lawsuit (pdf) with the Pennsylvania Supreme Court, asking justices to quickly declare illegal the guidance from the Pennsylvania Department of State regarding ballots that don't have dates.
Acting Pennsylvania Secretary of State Leigh Chapman said on Oct. 11 that "every county is expected to include undated ballots in their official returns for the Nov. 8 election, consistent with the Department of State's guidance." The guidance (pdf), last updated in September, states that "any ballot-return envelope that is undated or dated with an incorrect date but that has been timely received by the county shall be included" in the vote count.
State law states that any voter who uses an absentee or mail-in ballot must "fill out, date, and sign the declaration" that's printed on the envelope used to submit such a ballot, Republicans noted in their suit.
"Petitioners ask the Court to issue a declaration that the date requirement is valid and mandatory, and that the Acting Secretary's contrary guidance is invalid. Moreover, to preserve the rights of all voters and candidates, the Court should immediately issue an order directing county boards of elections to segregate any undated or incorrectly dated ballots received for the 2022 general election," the suit reads.
Some counties have said that they intend to segregate undated ballots but many haven't, the Republicans said, underlining the need to act quickly with the midterm election taking place in November.
The National Republican Congressional Committee (NRCC) also joined in the lawsuit.
"As the Pennsylvania legislature and U.S. Supreme Court have made clear, undated mail-in ballots should not be counted," Tom Emmer, chairman of the NRCC; Ronna McDaniel, chairwoman of the Republican National Committee; and Lawrence Tabas, chairman of the state Republican Party, said in a joint statement.
"Republicans are holding Pennsylvania Democrats accountable for their brazen defiance of the Supreme Court and the rules duly set by the legislature. Pennsylvania Democrats have a history of election integrity failures and Pennsylvanians deserve better: this lawsuit is the latest step in Republican efforts to promote free, fair, and transparent elections in the Keystone State."
The Pennsylvania Department of State didn't respond to a request for comment.
Chapman issued her latest statement after the U.S. Supreme Court ruled on the matter, vacating an appeals court decision that required officials in Pennsylvania to count mail-in ballots even if there were no dates on the envelopes.
She claimed that the order didn't affect a previous decision by the Pennsylvania Commonwealth Court, which ruled that both state and federal law bar officials from not counting ballots without dates on the envelopes.