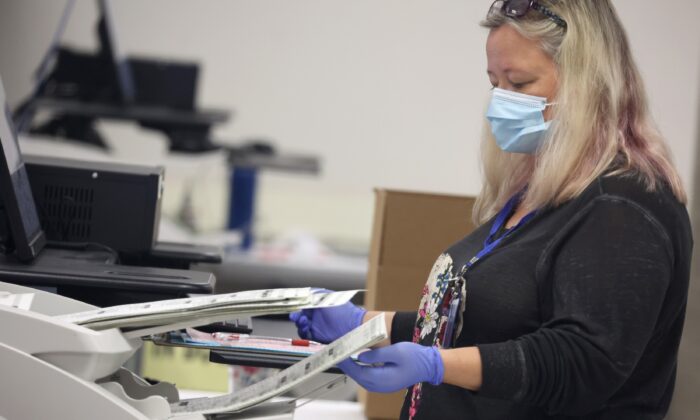 By Beth Brelje. Media: The Epoch Times.
Democrats braced for it; Republicans expected it, but a red wave did not materialize on election night 2022.
In the first election after a new president comes to office, it is common for the party opposite of the president to pick up congressional seats. With President Joe Biden's approval rating at 39 percent on the eve of the election, a power shift seemed imminent. That has not happened yet.
Voters are still waiting to learn which party will control the Senate. The Georgia, Nevada, and Arizona Senate races are still undecided.
With 97 Senate seats decided, Democrats have 48 seats and Republicans have 49.
Democrats picked up a seat when Pennsylvania voters flipped exiting Republican Sen. Pat Toomey's seat blue with the election of John Fetterman, who ran a close race against Republican Dr. Mehmet Oz.
In Georgia, Democrat Sen. Raphael Warnock and Republican Herschel Walker face a runoff election on Dec. 6. Neither candidate met the general election majority required under state law. With 98 percent of votes counted, Warnock had 49.4 percent, or 1,941,499 votes just leading Walker, who earned 48.5 percent or 1,906,246 votes. This will be Warnock's second runoff election. He faced a special election runoff in January 2021.
In Arizona, where counting has been delayed, just 66 percent of the results are in as of 4 p.m. Wednesday. Democrat Mark Kelly has 51.4 percent, or 927,423 of the votes, leading Republican Blake Masters at 46.4 percent with 837,261 votes.
In Nevada, with 77 percent of the results counted as of 4 p.m. Wednesday, Republican Paul Laxalt leads with 49.9 percent or 418,461 votes over Catherine Marie Cortez Masto at 47.2 percent or 395,866 votes. Nevada results are delayed due to a shortage of election workers and the acceptance of mail-in ballots arriving after Election Day.
Once these three states are counted, if the current leaders prevail, it will add two Democrats and one Republican the to Senate making the balance even: 50 Democrats and 50 Republicans. In that case, Democrats hold the majority due to the tie-breaking vote of Vice President Kamala Harris.
In the current Congress, the Senate is essentially the same, with 50 Republicans, 48 Democrats and two independents who caucus with the Democrats.
If all the races went to one party or another, it would not be a large enough majority to be comfortable for either party. The opposing party would only have to sway a few senators on any given bill.
If Democrats win all three undecided votes, the balance would be 51–49. If Republicans take control of all three seats, the power would be shifted to 52–48.