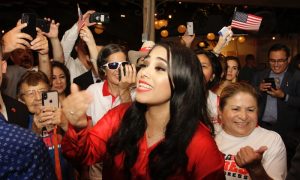 Mayra Flores (C) speaks to supporters after winning the Texas 34th Congressional District special election, in San Benito, Texas, on June 14, 2022. (Bobby Sanchez for The Epoch Times)
By Darlene McCormick Sanchez. Media: The Epoch Times.
HARLINGEN, Texas—Democrats called Republican Mayra Flores's win in Texas Congressional District 34 this summer a fluke.
Democrats, who didn't put a lot of resources into the special election that Flores won, have reasoned that the midterms would draw out more of the Democratic base in the heavily Hispanic district.
They were confident that Democrats would turn out to vote for Vicente Gonzalez, a party moderate who switched districts because the Republican-dominated Texas Legislature redrew the South Texas voter map, moving his McAllen home into District 34 from District 15.
But sentiment on the ground isn't matching the Democrat's prognosis.
Polls, such as Sabato's Crystal Ball, made final ratings on Nov. 7, moving Texas District 34 from a toss-up to leaning Republican. The Cook Political Report is showing the race as a toss-up.
If Flores pulls off a win, it will be nothing less than remarkable in light of a redrawn District 34. The new district cut out a large swath of the more conservative part of the district that extended far north into Gonzales County and east of San Antonio.
Flores won her special election under the old district lines where President Joe Biden won by 4 percentage points over Donald Trump. She made history, becoming the first Republican to win Texas's District 34 in more than 100 years and the first Mexican-born woman to serve in Congress.

U.S. Rep. Mayra Flores (R-Texas) is applauded after being sworn into Congress in Washington on June 21, 2022, after winning a special election in the state's Congressional District 34, a traditionally Democratic district where she is running as an underdog in November as one of more than 100 Latino candidates running for the U.S. House and U.S. Senate. (Anna Moneymaker/Getty Images)
According to the University of Virginia Center for Politics, the new district lines would have had Biden winning by more than 16 percentage points.
Republicans contend that Gonzalez fled the 15th District to the 34th, thinking it would be an easier race for a Democrat.
Campaigning to the Line
On Nov. 7, candidates made last minute campaign stops. Flores met with supporters in Raymondville for a barbecue lunch and then to Kingsville for coffee with constituents. Meanwhile, Gonzalez is planning an all-day swing through South Texas on Tuesday with singer Bobby Pulido.
Pastor Luis Cabrera with City Church in Harlingen where Flores attends church, told The Epoch Times that he believes Flores will make history for a second time.

Rep.-elect Mayra Flores (R-TX) stands with her family and Speaker of the House Nancy Pelosi (D-CA) for a portrait after being sworn-in on June 21, 2022 in Washington, DC. (Brandon Bell/Getty Images)
Flores contends that her platform of God, family, and country—aligns with Republican values. She tells everyone who will listen that Democrats have long taken the support of Latinos for granted.
Cabrera, preaching that the United States needs to be godly again, said he has been working to get Christians to understand the importance of the values that Flores stands for and get more involved in politics. Cabrera expects that people voting Republican will turn out in high numbers on election day because some are concerned about election integrity.
"History is about to be made," he said. "We're going to have a huge victory."
The race has been expensive for both candidates. According to Open Secrets, Flores's campaign has raised $3.8 million to Gonzalez's $2.67 million.
Flores's victory in June proved that Republicans had made significant inroads in the heavily Hispanic Rio Grande Valley, which Democrats have dominated for decades.
Flores, a legal immigrant from Mexico married to a Border Patrol officer, ran as a pro-life and pro-Second Amendment candidate who believes in border security, while highlighting how Democrat policies have led to soaring food and gas prices.
Gonzalez is running on popular Democrat Party themes, such as free college and more free childcare through its pre-K initiative.
He's more moderate on border issues. He supports "compassionate" immigration reform with a pathway to citizenship. As a Catholic, Gonzalez said he's pro-life but believes in the separation of church and state.
Neither campaign for Gonzalez nor Flores responded to a request for comment on Monday.