By Madalina Vasiliu. Media: The Epoch Times.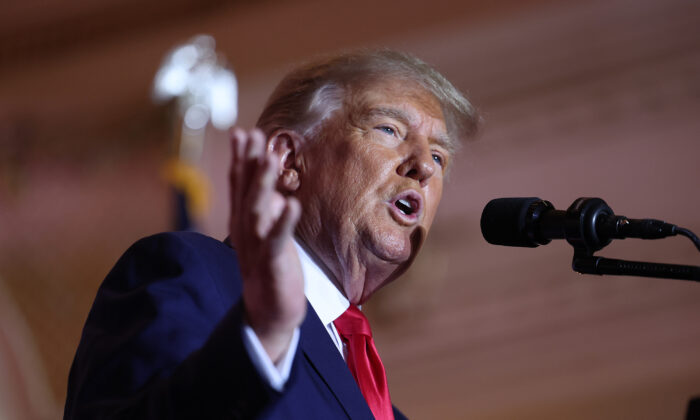 Former President Donald Trump posted a video on social media Dec. 24 in response to the January 6 Committee report (pdf), saying that Jan. 6, 2021, wasn't an insurrection but a protest that got out of hand.
"The events of January 6 were not an insurrection; they were a protest that tragically got out of control which the left has been weaponizing ever since—to censor, spy on, and persecute American citizens," Trump said.
He noted that the January 6 panel failed to show the part of his speech on Jan. 6 during which "I encouraged protestors to make their voices heard 'peacefully and patriotically.'"
In its report, the Committee wrote a section called "187 Minutes: Trump's Dereliction of Duty," describing Trump's alleged unwillingness to tell his supporters to leave the Capitol on January 6:
"From the outset of the violence and for several hours that followed, people at the Capitol, people inside President Trump's Administration, elected officials of both parties, members of President Trump's family, and Fox News commentators sympathetic to President Trump all tried to contact him to urge him to do one singular thing—one thing that all of these
people immediately understood was required: Instruct his supporters to stand down and disperse—to leave the Capitol."
Trump responded to the claim during the video on Truth social, saying he "issued a statement urging peace and respect for law enforcement within 25 minutes of the Capitol breach and another statement 30 minutes after that."
However, the report adds that Trump's tweets should have specifically required protestors to leave the Capitol on January 6.
"Almost everyone, including staff in the White House also found the President's 2:38 p.m. and 3:13 p.m. tweets to be insufficient because they did not instruct the rioters to leave the Capitol," the report reads.
Days prior to the January 6 protest, Trump said he urged 10,000 to 20,000 National Guard troops to ensure the event would be safe. "There was no insurrection, and there wasn't going to be an insurrection," he continued, adding that House Speaker Nancy Pelosi (D-Calif.) and Muriel Bowser, the district's mayor, both refused to take on his suggestion.
Trump also said the "unselect Committee," his pet name for the panel, should have addressed the Capitol police security issues that day.
The panel comprises Chairman Bennie Thompson (D-Miss.), House Majority Committee members Zoe Lofgren (D-Calif.), Adam Schiff (D-Calif.), Pete Aguilar (D-Calif.), Stephanie Murphy (D-Fla.), Jamie Raskin (D-Md.), Elaine Luria (D-Va.) and Minority Committee members Liz Cheney (R-Wyo.) and Adam Kinzinger (R-Ill.)
When Pelosi established the Committee, she rejected House Minority Leader Kevin McCarthy's (R-Calif.) selections for the panel, Reps. Jim Banks (R-Ind.) and Jim Jordan (R-Ohio). Pelosi appointed Cheney as the top Republican and Kinzinger for the other position.
"Most importantly, the unselect committee did not produce a single shred of evidence that I in any way intended or wanted violence at our Capitol," Trump said. He compared the January 6 accusations against him being similar to the "Russia hoax."
"They want to stop us from taking back our country, but they will fail—they will not win—we will make America great again," Trump said, ending his video.