By Matthew Holloway. Media: DC Enquirer.
Note: This article may contain commentary reflecting the author's opinion.
A new poll released Thursday morning by Rasmussen confirms that many millions of Americans believe that the 2020 presidential campaign of then-incumbent President Donald J. Trump was sabotaged by Republican collaborators in Washington D.C.
According to Rasmussen, wholly 55 percent of American voters believe that Trump's fellow Republicans "worked secretly with Democrats to keep President Trump from being reelected in 2020," as reported by Gateway Pundit.
Sixty-seven percent of Republicans polled believe this to be true as well.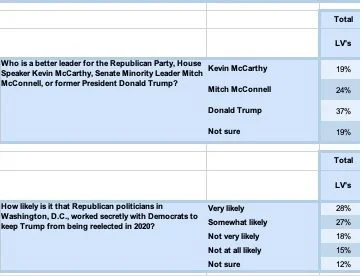 Good Morning !

Coming This AM: A majority of all voters now think Trump's 2020 campaign was sabotaged by D.C. politicians. https://t.co/Wwkx1D9YqJ

— Rasmussen Reports (@Rasmussen_Poll) March 16, 2023
Reporting from April 2022 about Senate Minority Leader Mitch McConnell's conduct on January 6th seems to support the assessment as well. Rasmussen tweeted an American Greatness story on March 8th that appeared to serve as the basis for the question with the caption,
"Calling Trump a 'despicable person,' McConnell reportedly bragged how he 'crushed the sons of bitches' on January 6 and promised to do the same to them in the 2022 primaries."
Julie Kelly writing for the outlet observed, "A dirty little secret about January 6—one of many—is that Democrats and establishment Republicans, not Trump supporters, wanted to shut down the official proceedings of that day."
McConnell reportedly spoke to New York Times reporter Jonathan Martin late on January 6, 2021, about Trump saying, "I feel exhilarated by the fact that this fellow finally, totally discredited himself."
McConnell claimed that Trump, "put a gun to his head and pulled the trigger," according to American Greatness.
Republicans and Democrats locked arms in 2020 to prevent the second presidential term of Donald Trump, and they are dedicating themselves to do so again by most accounts.
The majority of voters have a favorable impression of President Donald Trump.@Rasmussen_Poll's Mark Mitchell joined @EmeraldRobinson to detail their latest poll.

WATCH: pic.twitter.com/L3n79vmqpF

— The Absolute Truth with @EmeraldRobinson (@AbsoluteWithE) March 16, 2023
The very same polls show that Trump still enjoys a favorability rating of 52 percent among voters, in spite of all the combined work to "discredit" him, the same as House Speaker Kevin McCarthy. However, Republicans have given Trump a near unassailable 77% favorability rating.