By Brandon Drey. Media: DailyWire.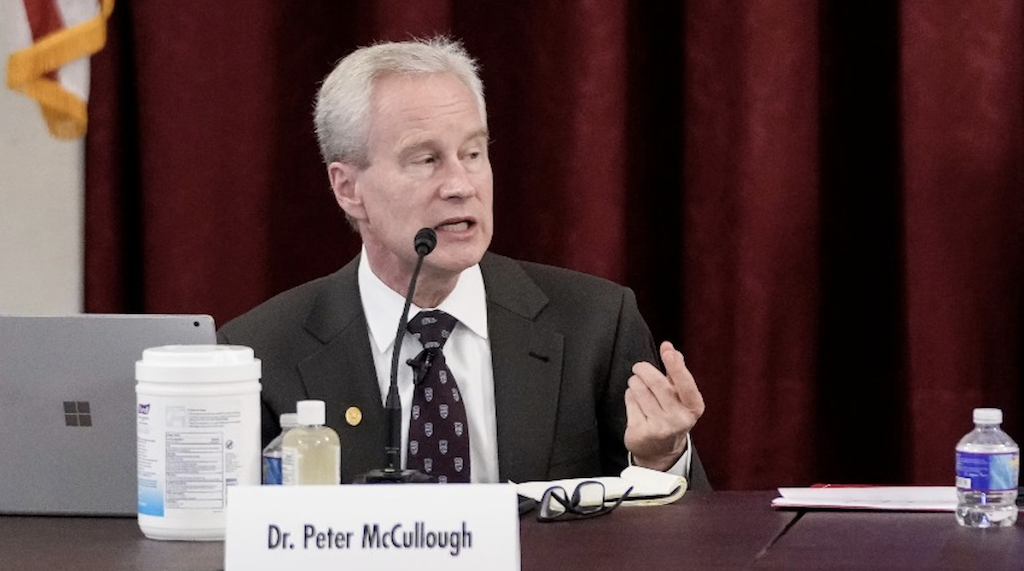 A district judge vindicated Texas cardiologist and outspoken COVID vaccine critic Dr. Peter McCullough on Wednesday, dismissing a lawsuit filed against him approximately two years ago by his former employer Baylor Scott and White Health system.
McCullough, dubbed a prominent purveyor of COVID misinformation by his detractors, was sued by the health system two years ago for allegedly violating a separation agreement and bringing the Baylor Scott and White Health name into the media. Associate Judge Tahira Khan Merritt of the Judicial District Court Dallas County dismissed the suit with prejudice.
"This is a strong victory for freedom of speech and fair balanced publication and media presentation of clinical data as it has emerged over the course of the pandemic crisis," McCullough told The Daily Wire. "My analyses and conclusions have been accurate, consistent, and have always been my own, not those of any institution."
Baylor accused McCullough in the $1 million lawsuit of "reputational harm," stating that McCullough gave several media interviews and was published in journals that mentioned Baylor as an affiliate even though he had parted ways with the employer.
Baylor Scott & White Health told The Dallas Morning News in a written statement at the time of the filings that McCullough's views don't represent those of the health care provider.
"The lawsuit was filed to enforce this separation and avoid public confusion," the statement said. "We take very seriously our responsibility to be a trusted source of medical information in the communities we serve."
Yet, representatives for the cardiologist asserted McCullough never stated he was employed by the health system and that it was third parties who referenced the relationship.
"The lawsuit, in a sense, represented a form of intimidation and professional reprisal, and I feel vindicated by the dismissal," McCullough said.
The Daily Wire reached out to Baylor Scott and White Health for comment but received no reply.
McCullough participated in health system task forces, led research activities on COVID for the health system, and teamed with government officials throughout the early days of the pandemic in 2020. Prominent medical journals published peer-reviewed studies of McCullough's early treatment and response to the COVID health crisis.
In response to his work, McCullough claims the health system decided not to renew his contract, which was "tantamount to termination" without reason or due process. Following the non-renewal, McCullough said he negotiated a settlement agreement that made way for the lawsuit.
"I'm glad it's behind us," he said. "The process was draining," he continued, adding that he believes the lawsuit was designed to injure his professional career.
"Moreover, it was a message to other doctors to follow a narrative," he said. "And that narrative is becoming increasingly uncomfortable for physicians in terms of a narrative that directs doctors not to treat patients early for COVID-19 and to continue to support and recommend emergency use authorized COVID-19 vaccination, despite mounting data that the vaccines have a very unfavorable safety profile."
McCullough became a controversial figure in the medical field amid the global pandemic, which prompted medical associations and legacy media to discredit his promotion of hydroxychloroquine and other early treatments.
In December 2021, the cardiologist appeared on "The Joe Rogan Experience" podcast where he made a number of claims about information surrounding treatments for the coronavirus, including questioning the efficacy and safety of the vaccines and how the pandemic started.
"When I graduated from medical school, I took the Hippocratic Oath, which said that, above all, I would do no harm to any patient, and I would do everything in my power to help each and every patient," McCullough said. "I've done that throughout the pandemic — not only with my personal patients — but through my public statements in my work as a public figure to help as many people in the world as possible, helping them avoid hospitalization and death with COVID-19 illness and helping them avoid injury, disability and death with COVID-19 vaccination."
"I think this is a very important stance — I wouldn't do anything any differently," he said. "Whether there was a lawsuit or no lawsuit — this is very important. The question on the table is, 'Why can't all doctors in America in the world say that?'"