By Tom Ozimek. Media: The Epoch Times.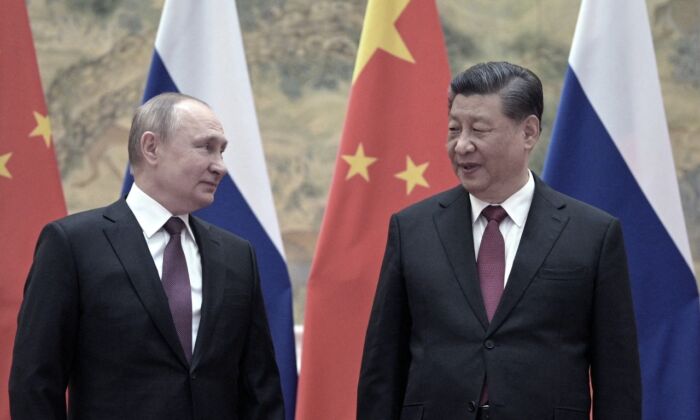 Chinese and Russian officials have announced that Chinese leader Xi Jinping will visit Moscow next week to meet Russian President Vladimir Putin in an apparent show of support amid the conflict in Ukraine and as East-West tensions sharpen.
The Kremlin said in a statement that Xi's visit would strengthen strategic cooperation between the two countries and that "important" bilateral documents would be signed.
A spokesperson for China's foreign ministry said that Xi's trip to Moscow aims to deepen trust between the two nations and is one of "friendship, cooperation and peace."
Xi's trip, scheduled for March 20–22, comes after China has sought to position itself as a mediator in the Russia-Ukraine conflict.
'Peace Plan'?
Last month, Beijing published a 12-point framework for a "political resolution of the Ukraine crisis" that it touted as a "peace plan."
While it called for an end to hostilities and a resumption of peace talks along with "respecting the sovereignty of all countries" and "abandoning the Cold War mentality," the plan was panned as vague and largely reflecting Kremlin talking points.
"We would certainly be concerned by any proposals coming out of [China] that would be one-sided and reflect only the Russian perspective," said U.S. National Security Council spokesman John Kirby at a March 16 press conference.
The United States and NATO have said China's mediation efforts aren't credible as Beijing refrained from condemning Russia's invasion of Ukraine, which the Kremlin calls a "special military operation" to defang Ukraine's military and topple from power in Kyiv people it calls "Nazis."
Amid unconfirmed rumors that Xi is considering meeting Ukraine President Volodymyr Zelenskyy or at least making a phone call, Kirby said that "it would be a very good thing if the two of them talked."
"We think it's really important for the Chinese to get the Ukrainian perspective and not just Mr. Putin's," Kirby said, adding that the White House has been encouraging a meeting between Xi and Zelenskyy for "quite some time."
Zelenskyy, for his part, said that he hopes to meet with Xi and that Beijing's proposal is a positive sign.
"China started talking about Ukraine, and I think this is a good thing," he said, while questioning the sincerity of China's plan.
"There are some things I disagree with, that I think the entire world disagrees with," Zelenskyy said of the document.
"But it actually begs the question, what will these words be followed with? Because the steps that are to be taken… this is what's important."
Zelenskyy said that China would need to push Russia to leave Ukraine if Beijing actually believed in what it had written.
"What they are saying looks like respect for territorial integrity," Zelenskyy said. "It doesn't mention the country, but it's our territorial integrity that has been breached."
"Territorial integrity implies withdrawal of Russian troops. If it's not there, that means it is not okay with us."
Likewise, Zelenskyy commented on U.S. fears that China's communist regime may provide Russia's military with lethal aid.
"I want to believe that China is going to side with the idea of peace and fairness, which is our side," Zelenskyy said.
"I really want to believe that China is not going to supply weapons to Russia. This is very important. This is priority number one for me and I'm doing my best to prevent that from happening."
'No Limits'
Ahead of Russia's invasion of Ukraine in February 2022, Putin visited Beijing for the opening of the Winter Olympics and the two leaders announced a "no limits" partnership.
Since then, Beijing and Moscow have taken steps to firm their ties, with bilateral trade between the two soaring.
China has ramped up its purchases of Russian oil, a key source of revenue for Moscow.
Russia, meanwhile, has welcomed China's plan for resolving its conflict with Ukraine, saying it's paying a "great deal of attention" to it while vowing to make a "nuanced study" of its content.
Kremlin spokesman Dmitry Peskov said shortly after the release of the plan that Beijing's voice should be heard, but the details and implications of the proposal are crucial.
"Any attempt to formulate theses for reaching a peaceful settlement of the problem is welcome, but, of course, the nuances are important," Peskov told Russian daily Izvestia, adding that for now, the Kremlin didn't see any signs suggesting that a peaceful resolution to the conflict could be accomplished.
U.S.-Russia tensions, already at their lowest point since the Cold War, took a further hit when Russian forces destroyed an American drone over the Black Sea on Tuesday.
"This hazardous episode is part of a pattern of aggressive, risky, and unsafe actions by Russian pilots in international airspace," U.S. Defense Secretary Lloyd Austin told reporters at a news conference.
Austin spoke to Russian Defense Minister Sergei Shoigu after the incident, with a Pentagon readout of their call indicating that Austin "emphasized that the United States will continue to fly and to operate wherever international law allows."
Shoigu, for his part, told Austin that U.S. drone flights near Crimea's coast are "provocative in nature" and could lead to "an escalation," according to a statement from Russia's Defense Ministry said.
The Kremlin said that the episode shows that the United States is directly involved in the war, something that the West has taken painstaking efforts to avoid to prevent an escalating conflict between two nuclear powers.